Best Lash Lift Kit + How Tos, Costs, and Promoting Lifts
February 6, 2023 by The Lash Professional.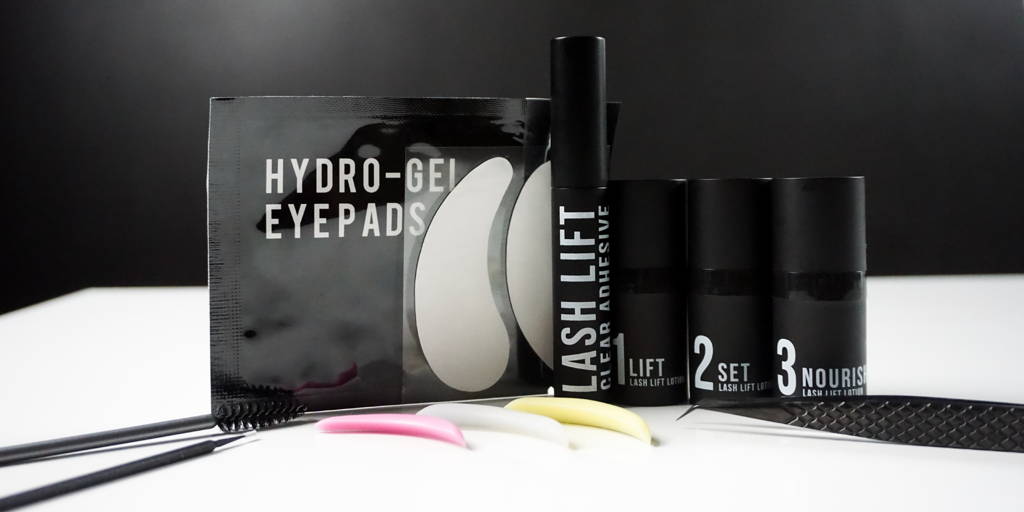 Picture getting a spa-level beauty procedure in the comfort of your own bathroom! Well, you don't have to just imagine it any longer — lash lift kits are here, and they make achieving curly lashes easier than ever. Lash lift kits come with all that is required for at-home pampering: serums, lotions, brushes, and pads needed for application, as well as clear instructions so you can easily recreate the salon look without breaking the bank.
The Lash Professional's best lash lift kit is a one-stop solution for those wanting to add volume, length, and curl to their natural lashes without damaging them. The best lash lift kit contains everything necessary for professional results, as well as detailed instructions so that you can apply the treatment correctly and safely.
A lash lift is a semi-permanent beauty treatment that uses different solutions to curl eyelashes and give them a longer, more lifted look. This method of curling involves no heat or force, so it won't damage your lashes. It also won't make them fall out, as some people worry about when using traditional curling methods.
Will a Lash Lift Destroy Lashes?
No, a lash lift won't destroy your lashes. This is because the lash lift products from The Lash Professional use gentle solutions to curl and shape the eyelashes. Because it doesn't use heat or force, the chances of your lashes being damaged are minimal. Plus, TLP's lash lift kits come with an instruction manual that will explain best practices for application and aftercare of the lash lift.
What's In a Lash Lift Kit?
Each kit includes the best possible materials to give you the best results. The Lash Professional's lash lift kit comes with a lifting lotion, perming solution, nourishing serum, setting cream, and pads for protecting the delicate eye area. It also comes with straight brushes for easy application and detailed instructions so that you get the best results.
Lash artists use these kits to achieve long-lasting eye beauty that can last up to 8 weeks with an expert application. Lash lifts provide a subtle enhancement of the eyes, making them look more wide awake and refreshed without the need for mascara or other products. Plus, they are great for those who have difficulty using eye makeup due to allergies.
How Much Does a Lash Lift Cost?
The lash lift kits from The Lash Professional are affordable and provide professional-level results. Our best lash lift kit retails for $125 and includes the following essentials, plus tools for brow lamination:
Step 1 Solution

Step 2 Solution

Step 3 Solution

Lift Adhesive

Small Rods

Medium Rods

Large Rods

Precision Tweezer

Microbrushes

10 Eyepads

Clear Wrap

50 Lash Brushes
You can also check pricing and details of other lash lift products if you want to purchase them individually.

How To Promote Lash Lifts To Clients
Lash lifts are becoming increasingly popular because they're a low-maintenance, long-lasting way to enhance the eyes. Here are some tips for promoting lash lifts to current & prospective clients:

Educate them about the process:

Explain why lash lifts provide great results with minimal effort and no damage to the lashes.

Talk about the cost savings:

Lash lifts are a more affordable option than eyelash extensions and can last up to 8 weeks, making them an even better value.

Highlight how they'll feel after:

Clients will love how eyes look wide open and refreshed without having to use mascara or other eye makeup.

Explain the best aftercare:

Informing clients of the best aftercare practices will help them get longer-lasting results.

Offer special promotions:

Lash lifts are a great service to promote with discounts or other offers. For example, you can offer a free nourishing serum with every lash lift service.
The best way to promote lash lifts and get clients excited about them is to show them your best work. Displaying before/after photos or a portfolio of lash lift clients is a great way to showcase the results you can get with a professional-level application.

Achieve Professional Results With The Best Lash Lift Kit From TLP
The Lash Professional's lash lift kit provides everything you need to achieve beautiful, long-lasting eye beauty without damaging the eyelashes. As mentioned, our kit includes all the necessary materials so you can offer the best possible service to your clients. Plus, it's affordable and easy to use, so you can start offering professional-level results quickly.
Whether you're a new or experienced lash artist looking for the best lash lift kit, The Lash Professional has everything you need to get started. Browse our website to learn more about our best lash lift kits and other products that can help you achieve beautiful results.
If you have any questions or would like advice on our bestselling products, please don't hesitate to contact us. We'll be happy to help you find the best lash tools and supplies to meet your needs.