Eye Pads For Eyelash Extensions: Details, Costs, and Reviews
February 18, 2021 by The Lash Professional.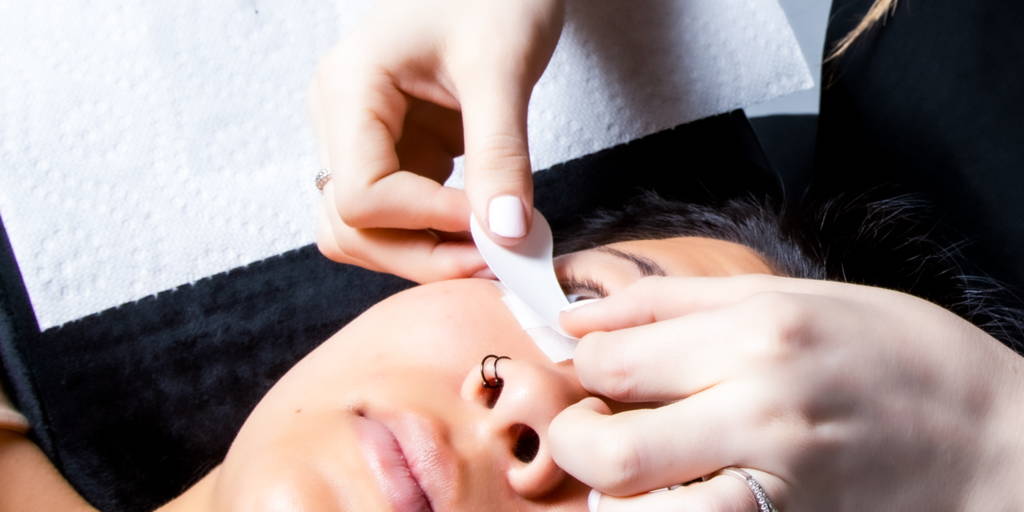 We understand that the eyelash extension process can be time-consuming! Both you and your client should block out a good hour and a half or more for quality lashes. And since you'll be spending so much time together, you really need to put some thought into keeping your clients comfortable as you apply their extensions.
While your clients just need to show up, there are several tools you need to have with you before you can start applying eyelash extensions. Though all of the items in your lash toolkitcan play a role in keeping your clients happy and comfortable, there is one item above all that may be deemed essential: eye pads for lash extensions. It's time to learn about eye pads and why you should always, always stay supplied with them!
What Are Eye Pads for Lash Extensions?
Eye pads are used during the eyelash extension process to keep the upper eyelashes separated from the lower eyelashes. Without them, the natural eyelashes below can mix with the extensions above.
They're a small addition to the process that fit around the lower part of the eye, sitting on the lower lashes and keeping them out of the way. Eye pads for eyelash extensions can be made out of a variety of materials, but we've recently seen explosive growth in the use of eye pads made specifically for sensitive skin. We'll dive deeper into allergic reactions and why eye pads are an ideal solution a little later. For now, let's get into the difference between lash extension eye pads and tape!
What Is the Difference Between Eye Pads and Eyelash Extension Tape?
Some lash artists will use medical-grade eyelash extension tape to keep the lower eyelids away from the upper ones. This sort of eyelash extension tape can be an effective way to isolate the lower eyelashes, but it might not be as comfortable for your clients as gel eye pads. To make the best use of all the tools in your eyelash extension kit, using under-eye pads for lash extensions combined with tape can be a reliable, comfortable method for clients.
How Are Eye Pads for Eyelash Extensions Used?
The last thing you want to happen during the process is gluing the eyelash extension and natural eyelashes together! That's why isolation is absolutely essential. Under-eye pads for lash extensions are placed on top of the lower eyelashes to keep this from happening. Eye pads for lash extensions also help protect the lower parts of the eye from the fumes of eyelash extension glue and the tools used to apply eyelash extensions.
Where To Buy Eye Pads for Lash Extensions?
Beauty supply stores and Amazon have many different kinds of eye pads for eyelash extensions for sale. The quality of the under-eye pads for lash extensions that you find from these sources cannot be guaranteed, though. You want to be sure that the eye pads you buy and use are of the best quality possible. Here at The Lash Professional, we offer high-quality eye pads for eyelash extensions! You can trust that your client's lashes will be protected and securely in place using our eye pads.
How Much Do Eye Pads for Eyelash Extensions Cost?
Depending on where you buy them from, a single package of eye pads for lash extensions can cost anywhere from $9 to $15 or more. The price you pay will largely depend on the number of eye pads that you order, how many eye pads for lash extensions are in a pack and their overall quality. Stock up on The Lash Professional's eye pads for just $10 for a pack of 10 to $35 for a pack of 50!
What if Clients are Allergic to Eye Pads for Eyelash Extensions?
You definitely want to avoid using eyelash pads that may spark an allergic reaction in your clients. Of course, you may not know beforehand whether or not certain eye pads for lash extensions will cause an allergic reaction or even if eye pads are the primary cause of an allergic reaction during an eyelash extension. Sometimes, irritation can be a natural reaction to fumes or glue. At other times, seasonal allergies need to be taken into account.
So, what can you do? You should play it safe and invest in hypoallergenic eye pads! These may include latex-free eye pads to keep clients' eyes comfortable or bio-gel eye pads for a gentler alternative on people who have sensitive skin or allergies. You still want to be wary of an allergic reaction to gel eye pads, so always conduct a patch test before application.
Stock Up on Eye Pads for Lash Extensions
You should always have a ready supply of eye pads for your eyelash extensions on hand! Be sure to know just the place to stock up and keep your lashing studio prepped at all times. The Lash Professional has a variety of hydrogel eye pads for lash extensions you can add to your cart so you're always ready to go! These gel eye pads will ensure an easy application for you and a comfortable experience for your client. They're an essential part of any lash artist's tool kit.
Rather than to wait until you're almost out of eye pads for lash extensions to buy more, wouldn't it be better to order some now? Let The Lash Professional be your supplier for lash lift eye pads and more!