How Long Do Eyelash Extensions Last? – Ask the Panel
November 27, 2018 by The Lash Professional.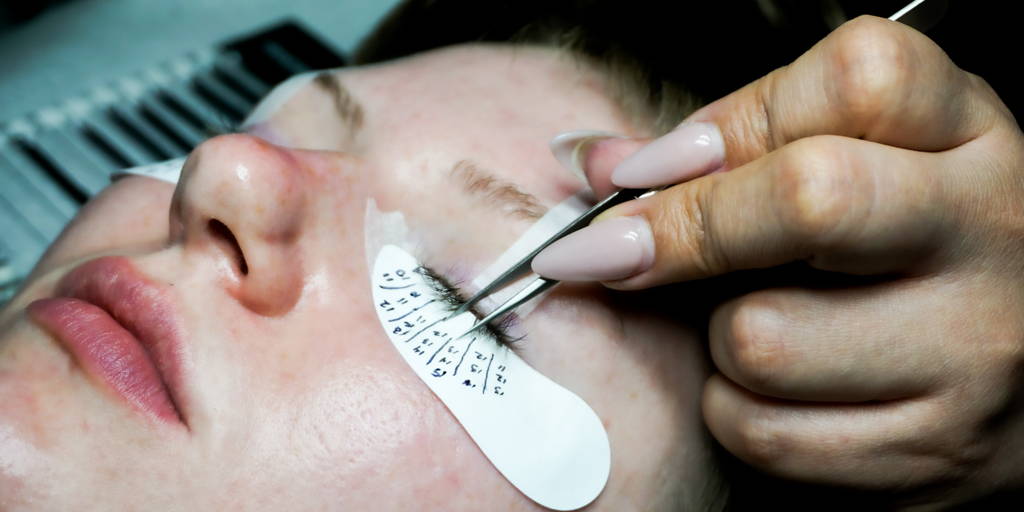 Perhaps you sorta, kinda, really want eyelash extensions, but the initial investment leaves you a little uneasy. Or, maybe you are an eyelash technician (or soon-to-be) who is looking to extend the life of your client's lashes. Regardless, I think we can agree – we all dread the possibility that our beautiful eyelash extensions won't hold as long as we had hoped. Surely, you have found yourself asking the all-too-common question, how long do eyelash extensions last anyway?
Luckily, we have gathered a diverse girl gang to answer the question for you – ranging from 5 days of experience, up to 10 years! As you may know, the answer is not definitive. In fact, it is far from it! There are too many factors to list that play into lash retention, from adhesive quality and lash weight, to client aftercare and natural lash cycle.
However, with a few small adjustments, as a lash artist or a client, the longevity of your lovely lashes can see a huge difference! So, let's get down to it. How long do eyelash extensions last? And what can we do to lengthen this number even further?
Rebekah Carden of Magnolia May Lash Bar
Not only is Rebekah Carden the owner and founder of Magnolia May Lash Bar, but she is also the mastermind behind Magnolia Academy! Here, she spends her time passing along her serious lash skills to other soon-to-be lashers. She is a licensed Esthetician who has been in the beauty industry for over ten years, but has been doing solely lashes for 3 years!

How long do you anticipate eyelash extensions to last?
Retention for my clients typically ranges from 3-5 weeks depending on style, length, and technique!
#1 tip for lashers?
Make sure your glue is spot on! That includes the glue viscosity, humidity, and type of glue. I always tell my students to make sure the viscosity and dry time matches where they are in their Lash Game, dry-time wise!
#1 tip for lashees?
Of course, we all know that clients need to avoid oil containing products and cleanse their lashes regularly. We often retail aftercare/cleansers, but not everyone retails Lash safe makeup. I have seen a huge shift in my clients' retention by retailing lash safe liner and mascara! That way, it's right there to purchase, and using their regular oil containing products is not as tempting!
Kilee Albano of Lashes with Kilee
Practicing from the heart of Washington State, Kilee Albano has been the Owner, Esthetician, and Lash Artist at Lashes with Kilee for around a year. She began studying in the lash industry after she got eyelash extensions for the first time and started tearing up because she looked just like her mom. "I instantly knew this industry was something special. I wanted to make others feel beautiful and special just like I do when I get mine done."

How long do you anticipate eyelash extensions to last?
Eyelash extensions have different retention cycles. I usually recommend my clients get their fills every 2-3 weeks, depending on how fast their natural lashes shed.
#1 tip for lashers?
Having a good adhesive glue is a plus for me, but you also want to store it in a cool dark, and dry place. This will help make the glue last longer! Adhesive can be funky sometimes and you have to be very careful with how you're using it and storing it.
#1 tip for lashees?
Don't get lashes wet for 24 hours after application, wash your lashes with lash cleaner 2-3 times a week, don't pull or tug on extensions, don't use oil-based products around the eyes, no mascara on extensions, brush lashes morning and night, and avoid sleeping directly on your face.
Kinsey Sarchet of Blissful Beauty
Kinsey Sarchet, Owner, Lash Artist, and Esthetician at Blissful Beauty, has been lashing since June 2008! In fact, the industry has changed so much since then, she's gone through several additional trainings to stay up to date on best practices. She truly has grown with the industry!

How long do you anticipate eyelash extensions to last?
Personally, I expect eyelash extensions to stay on until the natural lash sheds or until I manually remove them due to being grown out.
#1 tip for lashers?
One key element in eyelash extension longevity is looking at the natural lash and applying the appropriate weight for that lash. You can do this by applying the correct length and thickness for that particular lash. This keeps the lashes nice and healthy, along with not maxing out the lash to the point that they shed prematurely or simply fall off.
#1 tip for lashees?
Clean lashes are Happy Lashes! We tell our clients to cleans their lashes daily and after any activity that may cause them to become dirty. Activities like working out, swimming, and of course, daily makeup. We recommend using eyelash extension safe cleanser.
Kirsten Pyle of Aesthetics by Kirsten
Meet Kirsten Pyle, Lash Technician at Aesthetics by Kirsten. She has been a lash technician for only 5 days (as of November 21st, 2018) but has already fallen in love with the industry and The Lash Professional sisterhood!

How long do you anticipate eyelash extensions to last?
I anticipate lash extensions to stay on healthy lashes for 2 to 3 weeks. Even though the natural lifespan of a lash is only 6 to 8 weeks, sleeping on lashes, attaching lashes to the telogen stage of a natural lash, and using oil-based makeup products are all things I account for. So I schedule my clients to come back to fills every 2 to 3 weeks to keep them full and fluffy!
#1 tip for lashers?
Always double check your work. Take the time to go through each individual lash and make sure no one is glued to each other. Your client is trusting you with the look and integrity of their lashes! It's not about closing a sale, it's about opening a relationship. The more honest you are about your work, the more opportunities you will have to grow!
#1 tip for lashees?
Cleanse your lashes every day (of course, after waiting 24 hours to get your lashes wet)! Invest in the foaming lash cleanser and a reusable lash wand to clean those lashes daily! You brush your teeth every day, why not your lashes? Also, a bonus tip, if you are a side sleeper, invest in a silk pillowcase. Not only is it great for your lashes, but also your hair!
Kayla Marie Vandel of Pinks the Beauty Boutique
Kayla Marie Vandel is the Owner and Master Lash Artist at the adorable Pinks the Beauty Boutique. Her title "Master Lash Artist" definitely didn't appear by chance – she's been lashing since 2012!

How long do you anticipate eyelash extensions to last?
Usually, I find that eyelash extensions lash for around 4-6 weeks with a fill in between!
#1 tip for lashers?
Length and diameter ALWAYS matter. Be good to clients natural lashes!
#1 tip for lashees?
No sleep or crying… duh!! Just kidding. Cleaning them properly every night and sleeping with a silk pillow is the best way to extend the life of your lashes!
How long do eyelash extensions last?
Of course, asking lash professionals, "How long do eyelash extensions last" may seem like a loaded question. When it comes down to it, there are simply too many factors to answer this question with confidence! However, regardless of where you are at in your lash journey, The Lash Professional provides access to AH-mazing classic and volume lash training courses in cities across the country. Plus, you will find some of the best quality lash products on the market, tested and approved by industry experts.
Happy Lashing!