3 New Eyelash Extension Techniques for Lash Artists in 2022
May 5, 2022 by The Lash Professional.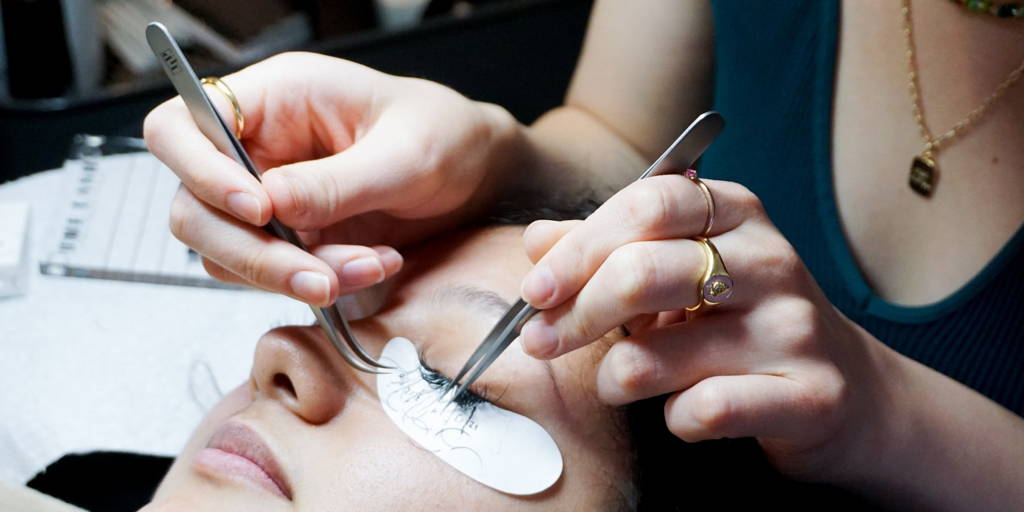 Like all masters of an artistic craft, lash techs understandably take great pride in their skills, knowledge, and creativity. After all, you worked so hard to get to where you are, to learn how to be the very best, right? You know your lash education is never really complete since every new year brings with it new eyelash extension techniques and trends to master.
If you want to stay on top, you have to stay in the know about the latest and greatest eyelash extension techniques out there. Since you're too savvy to be left behind, it's time to take a look at the eyelash extension techniques dominating 2022, so the competition doesn't dominate you!
Eyelash Extension Techniques To Know Right Now
Above all, the thing to know about eyelash extension techniques in 2022 is that mixing up different styles and curls of lashes is "in." Yes, these days, lash artists are experimenting with how they apply different lash curls side by side, or in layers, to create unique, eye-catching (pun intended) looks for those clients who want more lift and volume than ever before. At the same time, as we'll see, other lash techs are finding some clients are going in the opposite direction.
Rather than being trapped with one curl or style, mixing things up helps clients tap into their inner beauty. It encourages lash techs to be ever more creative as they embrace and master new eyelash extension techniques.
First up: It's time for some lash drama, queens! The world is getting back to normal, and it's time to show off! Traditionally, the C curl is the go-to for clients who want to lift things up a notch when it comes to their lashes. The D curl, though, is making its presence felt near and far, and the results are nothing short of spectacular.
But, that's not all: Lash mixology innovation never sleeps. Incorporating the CC curl into a line with both C and D curl lashes, making it look even more natural and dramatically stunning, is something you'll see more than before.
What you might actually find surprising is how shorter, more natural lashes have also grown quite popular these first few months of 2022. Clients who opt for this kind of look see it as alluring, a return to innocence: Less Cardi B, more B Curl? Whatever the reasons, sometimes subtlety in lashes is demanded, and lash artists must provide!
Now, before you get to thinking that going for less, rather than more, drama leaves you with few creative options, the opposite is in fact true. Nothing is boring about this, and everything can be stylish. Remember, creatively mixing curls is one of the new eyelash extension techniques to embrace!
While you might think B curls are best, your client's desire for a more natural look can be achieved by applying both I and J curl lashes to your client's natural lashes, with a few Bs thrown in for good measure if you like. This combo can achieve the slightest hint of style desirable, giving a whiff of mystery and curiosity to your clients' eyes.
Of course, mixing lashes isn't the only way to go. As masks become less prevalent, so many opportunities arise for showing off your beautiful moisturized face once more. And, guess what? The "wet look" for your lashes is the perfect complement! This is another of the latest eyelash extension techniques you should have a handle on.
Through the use of narrow volume fans that are actually kept more closed than open, you get thicker, bolder lashes that look as if they haven't quite dried yet.
Keep One Step Ahead of Eyelash Extension Techniques
The new eyelash extension techniques you see here are by no means the only ones, and there's every chance that what's in this month will be out the next.
It can be hard to stay on top of new lash trends and techniques, especially when you're so busy with clients (which, hey, is a good thing!). Do yourself a favor, and keep an eye on fashion magazines, which can clue you into which way the winds are blowing.
If you're seeing new lash techniques in magazines, the chances are your clients are, too, or will see them soon. Be one step ahead of them, and they'll adore you for it!
The Lash Professional Can Help You Stay at Your Best!
If you aren't sure whether you can pull off a certain look, don't think you can't do it. Maybe all you need is a refresher course from The Lash Professional, to remind you of how good you are, and give you more confidence in your already amazing skills!
With the lash training courses provided by The Lash Professional (taught by Master Lash Educators!), you can be fully confident you're able to make your clients' beauty wishes come true.
Since you're hungry for more opportunities to shine (and help your clients' lashes take the world by storm), there's no time to waste. Drop what you're doing and check out The Lash Professional's online, live, and hands-on courses today!