Why Should You Attend Beauty Trade Shows?
June 18, 2018 by The Lash Professional. Posted in Get Money.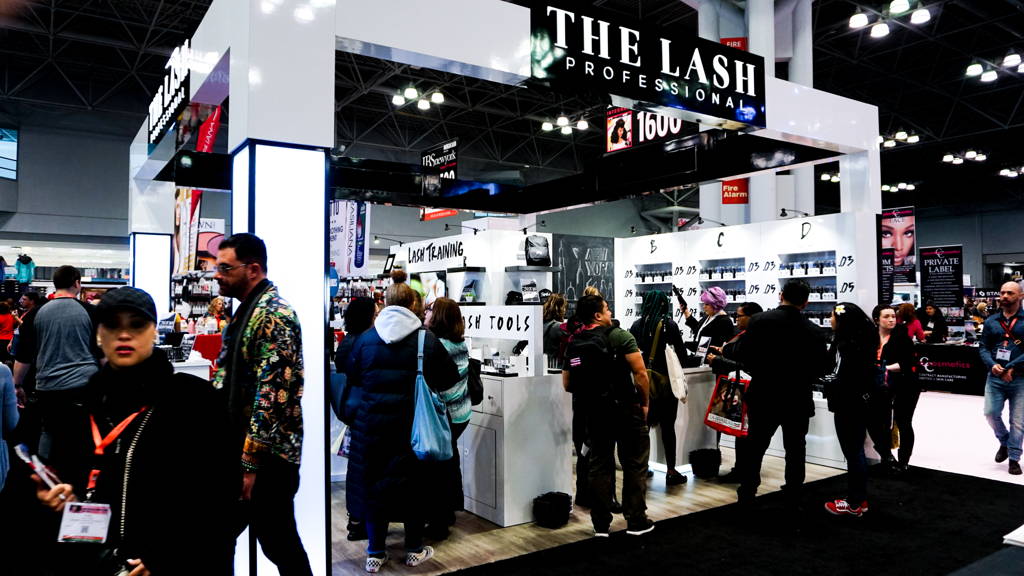 Trade shows are exciting, no matter what industry you are in! The beauty industry knows how to throw a party, so to speak. But beauty trade shows and conventions are more than just a party--they are strategic opportunities for lash artists and business owners. Here's why.
First of all, big shows like International Beauty Show in Las Vegas are the perfect opportunity for you to educate yourself on all of the new industry trends! Like I said, whether you are a business owner or employee, trade shows will expose you to the latest and greatest techniques, products, and so much more! Why would you want to pass an opportunity like that up?!
Grow as a Lash Artist or Salon Owner
No, I'm not talking about lash re-growth, I am talking about evolving; as a lash business, artist, and individual...who loves lashes! That's right, being around some of the top lash companies and artists in this industry is a sure-fire way to get your creative juices flowing. Submerging yourself into the center of their world will motivate you to grind, by any means necessary and of course will be a testament as to how far you can go!

Sometimes we get so caught up in our business and work that we forget to stop to self evaluate. Doing this is so important. Being aware of your own strengths and weakness will allow you to grow and evolve into everything you've ever wanted to be! Having someone or something to gage and compare yourself to will help you with doing so. Now, don't get me wrong…everyone is an individual and is special and unique in their own way; we should never compare ourselves to others for any other reason than to grow into a better individual. BUT, being aware of your competitors strengths and weaknesses, as well as your own, will allow you the tools you need to succeed in this industry.
Meet Other Lash Professionals and Beauty Experts
Networking is something we know a lot about (you know, attaching lashes to one another all day every day), but I am actually referring to professional networking! If you are anything like me, networking isn't always easy… I overhear someone in a supermarket say they do lashes and I hesitate to reach out (I am very shy, believe it or not). Trade shows, however, create a whole new level of comfort. People WANT you to reach out to them; networking is literally the reason people go to these things. Successful networking can be a life changing experience; having people to learn from and lean on can take you to the next level of lashing.
Become Recognizable in the Lash Industry
Ahhh, yes, the lime light! Ok, lime light may be a stretch, but exposure is real! In the beauty industry, as we all know, exposure is everything. Along with networking, exposure is something that can bump you to the next level. Make sure people are aware of who you are and that you are a force to recon with. With exposure will come reputability and with reputability will come success. Trade shows aren't the only way to do this, but they sure do make it a lot easier!
Generate New Lash Business
By show up, I mean you have an opportunity to really show people what you are made of! Whether you are exhibiting (have a booth) or are merely attending, don't let yourself fade into the background. Trade shows give you an opportunity to express yourself and your business. Why is that important you ask? Well, think about this: If you assume 20,000 people go to a trade show, you can assume that about 15,000 of those people discover new companies that they want to be a part of. Actually, those stats aren't "assumed", they are real! Susan Ratliff, previous owner of Exhibit Experts and writer of "Exhibit like an Expert" wrote in her book that "77%" of attendees will essentially join forces with a new company, whether it's a new vendor, retailer, or who knows, maybe a new salon or lash artist!"

Now keep in mind, for The Lash Professional, shows like IBS Vegas are most ideal for exhibiting. Shows like IBS give us an opportunity to sell our lash products and lash training to professionals like you! For a lash salon or lash artist to exhibit, however, Beauty Con and bridal shows may be more beneficial. These types of shows will allow you to sell your services to potential clients. Companies like Exhibit Experts are designed and available to help you work through your options and will create an incredible booth for you to be sure you SHOW UP, no matter where you are exhibiting. Check out their website to see what I am talking about! And come see The Lash Professional at IBS Las Vegas this weekend, while you are at it, and you can see the incredible booth they've created for us!
This is probably the easiest reason for you to give in to; trade shows are fun! Being submerged in an environment that you are passionate about is so uplifting and fulfilling. From the educational classes to give-aways and so much more. Nothing will gain the attention of potential costumers/clients more than a company or artist who is having a good time. Participating in all the fun will show everyone what kind of person or company you are, which will benefit you in the long run! What better way to build a business or passion than to have fun.

There are pros and cons to exhibiting or even just to attend trade shows such as cost and time. Well, from the wise mouth of a dear friend of mine, you can't get money if you don't invest money. And, because I think it is necessary, I'll end with another quote from Susan Ratliff's book as well, which is actually a quote from Zig Ziggler, "If you always do what you've always done, you'll always get what you've always gotten." And that is the truest truth I've ever heard!