How To Get Eyelash Extension Clients
February 18, 2021 by The Lash Professional.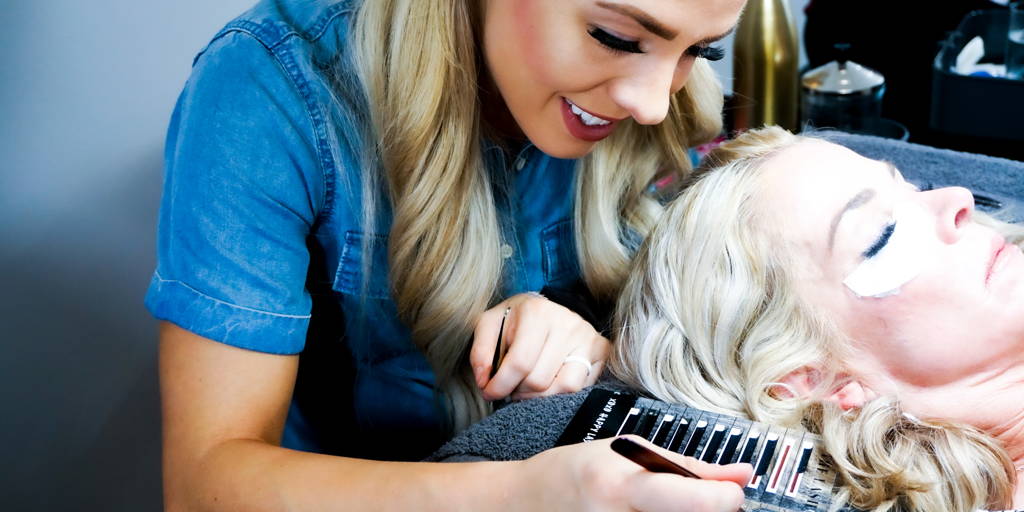 Are you new to the lash industry and trying to build your lash clientele? Building your clientele can be overwhelming but remember, everyone has to start somewhere. Every lash artist has been in your exact shoes.
It will take some time, like everything else in life, but if you're persistent, you can reach your lash goals and reach them fairly quickly. If you're ready to build your lash clientele, follow these five easy tips to get you there. Learn how to get eyelash extension clients in a few simple ways with The Lash Professional.
1. Get Social
In today's world, social media is a huge part of getting your brand out there. Facebook and Instagram easily allow you to share photos of your work and lash space. What's even more awesome is that future clients can find you by searching relevant hashtags, from a repost or just looking through photos.
When posting on social media, be professional, but don't forget to be personable too. Lucky for you, we have a guide to Instagram tips and tricks to help you out! Your potential clients want to see who you are, not just your lash work. Do they want to spend two hours with you? Do they want to be in your presence every two weeks?
I personally love my lash artist because not only does she do amazing lashes, I also love spending time with her. So, show that amazing personality that makes you, you! Share lash-related posts, quotes, lash looks you've created, and personal achievements such as getting certified as a professional lash technician. You can use social media to grow your lash business by sharing what you do best –– lash extensions!
Social media has given lash artist's a great way to reach potential clientele and create strong relationships with current clientele! Don't skip this free marketing tool! Have some fun and get creative with your posts. It can be an excellent way for how to get eyelash extension clients quickly.
2. Ask for Reviews
Ask clients for reviews! Reviews can help build your lash clientele quickly. Future clients searching for a lash artist will almost always look for online reviews, especially if they don't have any personal recommendations. Think about it. Would you buy a mascara on Amazon that had zero reviews or one with 50 glowing reviews? It's a pretty simple choice, right?
Google and Yelp can either bring you more clients or turn potential clients away. It's important to shine on these review platforms to build your lash clientele, so spend some time adding photos of your work and your lash space, respond publicly to reviews, and don't be afraid to ask current clients for reviews!
Asking clients to leave reviews is one of the easiest ways to increase eyelash extension clientele. Don't be shy. You know you're doing great work when clients walk out looking fabulous. They surely won't mind sparing a couple of minutes to write a quick review.
3. Offer Client Incentive
Create an incentive or referral program. Word of mouth marketing is everything and more! Oh, and it's free. Who doesn't like free! Most people will find their lash artist from a recommendation from a friend or family member.
"Oh my gosh, I love your lashes. Who did them?" This question is a powerful way to gain more lash clients. Some of your clients may already recommend you to their friends and family, but a referral program will up the ante!
I recommend offering your clients a discount or even a free service or product for every referral they send you. Do the best eyelash extensions that make people stop and talk about your brand, lash babe! And then, give your clients an incentive to sell you too!
4. Seek Support from Friends and Family
Ask your friends and family to help get your name out there! When thinking of how to build your lash clientele, don't overlook the people closest to you! Family and friends are great resources for getting more eyelash extension clients.
They can help build your lash clientele by posting your work on their social media, talking about you to their friends and coworkers, and can even pass out your business cards. I promise, these people want you to succeed (so you can buy the bottle of wine at happy hour) and will help you get there, you just have to ask!
So don't be nervous. Seek support from those you trust because I'm sure they are dying to help you grow your lash business. They might know just the person who is looking to try lash extensions and send them your way.
5. Be Prepared to Build your Lash Clientele
Be prepared with business cards and pricing. If someone compliments your lashes, give them your business card. If you overhear someone talking about lashes, give them your business card and prices. Or if you see someone with lashes, yep, you guessed it, compliment them and give them your info!
It won't be enough to use a generic, bland design — that won't catch their eye. Make sure your cards and price sheet stand out — give them some flair and use a cute design! Even better, you can even put a special discount for first-time clients on your business card or price sheet. If you don't have a sheet, check out our downloadable price sheet template.
If you're interested in learning more about the business side of running your own eyelash extension business, check out The Lash Professional's Business Course! The course covers a lot of ground to help make your new lash business a huge success.
You've got this! Hopefully, this guide on how to get eyelash extension clients has helped you feel more confident. Building a lash clientele isn't as hard as you think! Put some time into it and, girl, you will be on your way to a full book of lash clients.