3 Types of Eyelash Extensions
February 18, 2021 by The Lash Professional.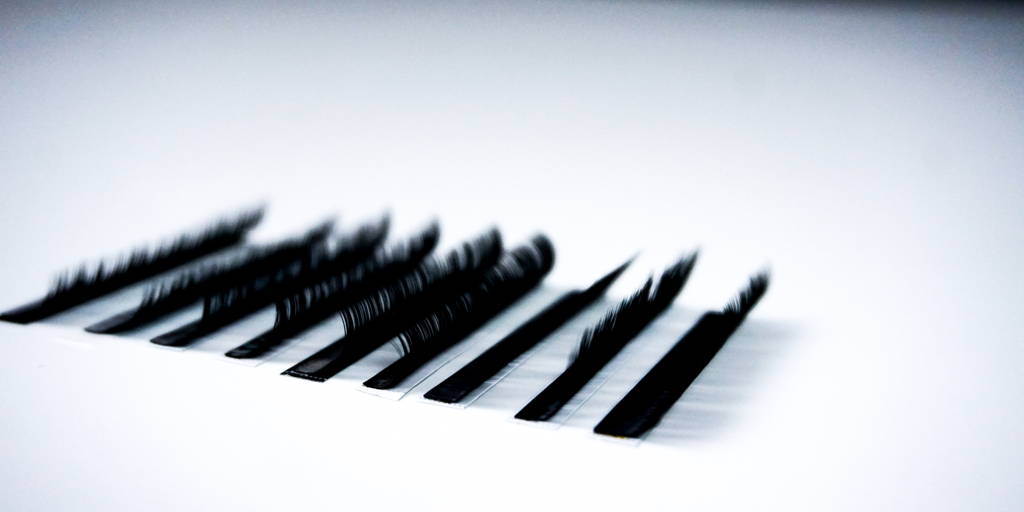 Hey lash stylist, how's your week been? Hopefully, you've been slaying lashes left and right. This week, we're talking about three different types of eyelash extensions. Say what? There's more than one type of eyelash extension? The answer is yes. There are actually quite a few different eyelash extension options you can choose from when shopping for lashes.
We're going to explore the differences between silk, mink, and faux mink eyelash extension types. Each has their own benefits, and it can be difficult to decide which type of eyelash extension is best for you and your clients. No worries! We're going to help you out, babe.
Best Types of Eyelash Extensions
You may be wondering, "What are the best types of eyelash extensions?". The Lash Professional has you covered! We're going to share three of the best types of eyelash extensions and the benefits of each. There may be occasions when you use each one for a specific reason. Read on to learn more about these types of eyelash extensions.
Silk Lash Extensions
Silk eyelash extensions are a very popular eyelash extension option. One of the great things about them is that they're one of the cheaper types of eyelash extensions on the market.
If your client doesn't like the overly natural lash look, then silk lash extensions are perfect. Their extra weight provides more dramatic results than other types of eyelash extensions. They're also thicker than some other options, so they're more noticeable.
We love sassy silk lashes, but these should only be used on clients with super-strong natural lashes because thick extensions = heavy lashes. And we already know that too-heavy extensions can damage a client's natural lashes. On that note, don't forget to recommend a lash growth serum to your clients to maintain the health of their natural lashes. No breakage here!
Mink Lash Extensions
Mink eyelash extensions come from real mink fur. It is said that these creatures' tiny hairs are collected by brushing them. If you're going for a vegan- or cruelty-free vibe, we suggest you stay away from real mink eyelash extensions.
Don't clutch your pearls too hard over this, but they're the most expensive eyelash extensions on the market, meaning your clients will be paying between $300 and $500 for a full set, according to Emily McClure at Bustle. We like to offer quality services at affordable prices so we can cater to a wide clientele, and mink eyelash extensions can be a bit pricey!
Mink lash extensions are premium and provide a killer voluminous lash look, but you have to consider if they are in your price range. If price isn't a factor for you and your clients, then mink lash extensions are a fantastic high-quality eyelash extension option.
The next type of lash extension is our personal favorite and will give you that mink lash look for less!
Faux Mink Lash Extensions
We at The Lash Professional believe faux mink eyelash extensions are the way to go.
Faux mink extensions are comparable in cost to silk extensions, but they're made of polyester, which is a lot more versatile than silk. Also, they are feather-light compared to silk lashes.
These lashes are soft, comfortable, and come in a variety of different lengths and curl types. They give a 3D layered look that we personally love! Even better, there's no mink involved. Read vegan- and cruelty-free, babe.
Achieve a natural lash look at an affordable price with this type of eyelash extension. If you like the look of real mink lash extensions, give faux mink lashes a try.
As you can see, there are pros and cons to each type of eyelash extension. Weigh the benefits to choose which option will work best for you and your clients.
Shop for Eyelash Extensions
So, now that you're an expert in the different types of eyelash extensions, do you know what you're going to invest in? If you're looking for quality faux mink eyelash extensions at a great price (and cute as hell branding), visit The Lash Professional's lash shop. Did you know we even have premade volume lashes in multiple lengths? I know, super cool, right? And don't forget about our eyelash extension tools like tape, pillows, stones, and more!
If you've read all of our blogs, and want more, more, more, strut on over to our YouTube channel where Certified Bad B*tch Vanessa shares her wisdom on all things lashes. Here, I'll make it easy for you. Just click play on the video below!
As always, if you have any questions, comments, or concerns, head over to our website and let us hear 'em!