6 Types of Colored Eyelash Extensions
February 18, 2021 by The Lash Professional.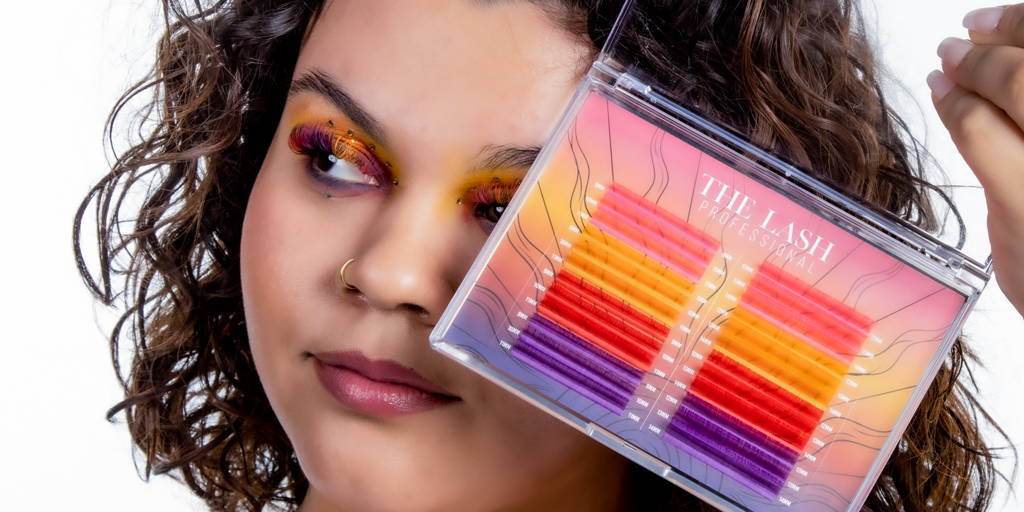 Toe the line with colored eyelash extensions!
We all want to provide our clients with the perfect set of dreamy lashes! By all means, razor-sharp technique and an artistic eye for lash design are important. But, are just the tip of the iceberg when it comes to creating charismatic eyelash extensions.
Go all the way with colored eyelash extensions to add depth and personality to any set of eyelash extensions.
Try these fun colored extensions for your adventurous clients!
Colored Eyelash Extensions for Every Client
Red Eyelash Extensions

We're starting off with a bang with bright red eyelash extensions! Don't let these fiery colored eyelash extensions intimidate your unsuspecting clients. Bright red extensions are the perfect accessory to show team pride or show friends and family how to do holiday spirit right! In either case, your client's will be the talk of the town.

Pairs well with blue and grey eyes.
Get the Lash: Your clients will see red—literally!—with these red eyelash extensions.
Brown Eyelash Extensions
We get it—not every client is ready for a bold red lash! In this case, brown eyelash extensions are the perfect solution. This subtle colored eyelash extension will add noticeable depth and dimension without drawing too many awestricken stares. All in all, it is the perfect 'gateway' lash to the world of colored eyelash extensions.
Pairs well with blondes and redheads.
Get the Lash: Hop on this deal to give your redhead girls and blond bombshell clients the brown eyelash extensions of their dreams.
Green Eyelash Extensions
We're not saying that you have to have these beautiful green eyelash extensions. We're just saying that you are doing your clients a huge disservice for not stocking these striking colored lashes! Make your client's green-eyed beauties pop with green eyelash extensions! Don't tell us we didn't tell you about this professional lash kit must-have.
Pairs well with green, hazel and brown eyes.
Get the Lash: Take advantage of these standout green eyelash extensions.
Purple Eyelash Extensions
Bring the drama with purple eyelash extensions! We've never backed down from a challenge, and aren't starting with purple lashes. This bold eyelash color will challenge even your gutsiest client to push boundaries and embrace this unique eye look.
Pairs well with green and hazel eyes.
Get the Lash: Give your client something to go ga-ga over with these purple eyelash extensions!
Blue Eyelash Extensions
Brighten your blue-eyed babes' faces with a set of blue eyelash extensions! These colored eyelash extensions will complement any pair of piercing blue eyes. Don't worry—your brown and amber-eyed beauties will also be able to take advantage of these eyelash extensions too! Experiment with blue eyelash extensions to create pristinely detailed eye looks.
Pairs well with blue, amber and brown eyes.
Get the Lash: Make your clients the talk of the town with a set of blue eyelash extensions.
Rainbow Eyelash Extensions
You read that right—rainbow lashes! Rainbow eyelash extensions are reserved for trendsetting clients who aren't afraid to step outside of the box and turn heads. Subtly blend these colorful lashes with black eyelash extensions. Or, pump up the sass with a full set of rainbow eyelash extension. Either way, your client is guaranteed to drop jaws with these flashy additions.
Pairs well with all eye colors.
Get the Lash: The sky is the limit! Get creative with a set of rainbow eyelash extensions.
Lash with Colored Extensions
If you're as obsessed with these bold colored eyelash extensions as we are, then hop on this trend!

Create full-color sets or mix colors with colored eyelash extensions from The Lash Shop! The Shop has an array of eyelash extension supplies for techs from isolation tweezers to nano misters for faster drying time.
What are you waiting for? Hit up The Lash Shop to stock your lash kit with the latest lash products!