How to Become a Certified Lash Technician
February 18, 2021 by The Lash Professional.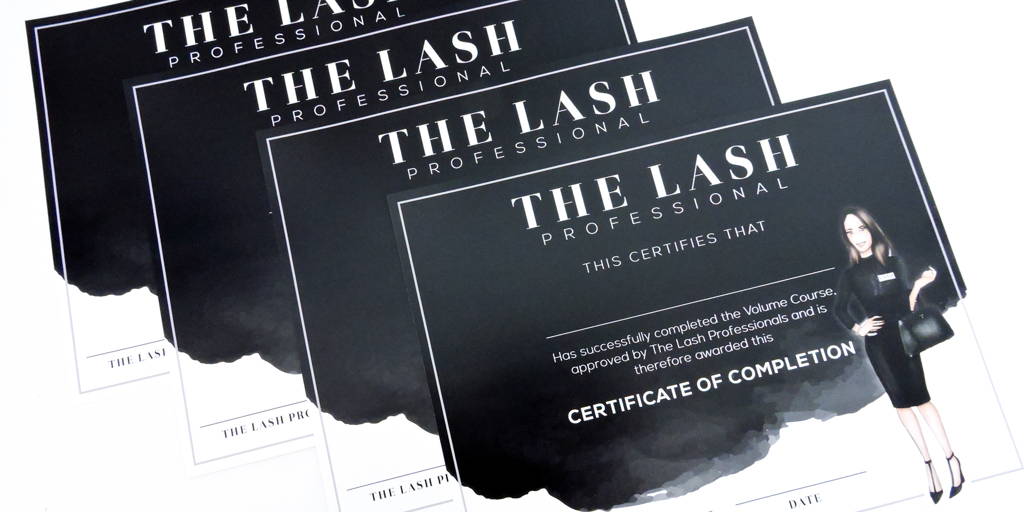 Are you a cosmetology or aesthetic student looking for the right career? Are you unsure what industry to get involved in but know you love makeup and beauty? Do lash extensions sound exciting to you? Well, guess what… They are!
Lash extensions are super fun, and becoming a lash tech can be a great career move. With the information below and a professional eyelash extension kit, you are sure to start your journey as a certified lash technician on the right foot!
Let's take it back to the basics with this guide on how to become a lash tech.
What is a Certified Lash Technician?
Before I get into how to become a lash tech, let's start by making sure this is the career for you!

First, what in the world is a certified lash technician?
A certified lash technician is a licensed individual who works for themselves or under a business doing lash extensions.
Got it? Good. Now, let's go a little further.
Qualifications for a Certified Lash Technician
The qualifications for a lash technician don't stop with the lash certification. Many states require you to obtain a lash certification AND be licensed as a cosmetologist or aesthetician! Why is that? Well, any time you are working on a sensitive area of the human body, it is necessary that you know more than the average joe-shmoe.
Lash extensions also require a few different chemical products that, if used incorrectly, could severely harm or damage the eyes or skin. YIKES! Not all states, however, require a lash certification, believe it or not. I recommend that you get your lash tech certification, though, as it will make you a credible and reputable option for potential clients! Later, we will talk about how to get an eyelash extension certification.
What's a Certified Lash Tech's Schedule Look Like?
Whether you are working for someone else or yourself, your income is based on your schedule. Most certified lash technicians work many hours… because they like earning lots of money! You will, of course, want to choose work days that fit best with your schedule, but most importantly, days that work best for clients! It isn't out of character for a lash technician to work through the weekend because that's when most clients are available for appointments.

When working for a salon, you can assume you will work 3–5 days a week with 5–8 hour days. Working for yourself, you may have some weeks that you work 2 days and some that you work 6 or 7! Just keep in mind that your income is based on your dedication and schedule.
What's the Income Potential for a Certified Lash Technician?
The pay for this position can range from an average of $14 to $25 hourly. Now, don't let that deter you — this position is rarely paid an hourly wage. Those amounts are based on annual income and tips averaged.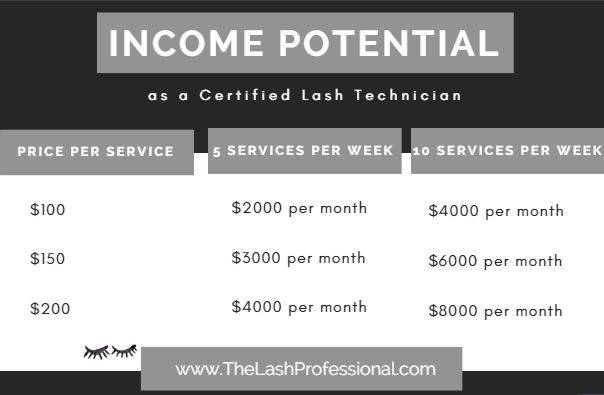 If you work for a lash studio or salon, you will generally see a commission of around 25%–45%. That means your average hourly pay will range closer to $14–$19. If you have your own lash space and a steady clientele, you can assume you will make closer to $20–$25 hourly. BUT (the big but), a large percentage of that amount may end up going back to your business's rent, taxes, and inventory! These are all things to consider when exploring a career as a certified lash technician!

That being said, based on qualifications, schedule, and place of work, a lash technician has the potential to make a great income and have an epic career!
Benefits of Becoming a Certified Lash Technician
There are several fantastic benefits of becoming a certified lash technician. I will highlight just a few:

Credibility. As a lash technician, you want to be viewed as a knowledgeable professional in the industry. Having your certification ensures you are confident and consistently deliver beautiful, long-lasting results.
Schedule. You control what your schedule looks like and how many hours you work each week. Being a certified lash artist means that you can work as few or as many hours as you need!
Enjoyment. Becoming a lash tech is great for people who love helping clients to feel confident and beautiful. Seeing transformations and smiles every day from happy customers makes this career an enjoyable experience.
Now that you know the benefits, you are probably wondering how to become a lash technician, right? So let's get into the good stuff!
Are looking for lash technicians near me?
Look No Further! Our Lash Tech School Offers top-class classes and courses to train aspiring lash technicians, giving them all the skills and expertise required to become successful technicians within your community. Our program will equip them with what it takes to become successful lash technicians!
With the increasing demand for skilled lash technicians near me, our comprehensive courses are specifically tailored to provide in-depth knowledge and hands-on experience in this industry. At our school, we know it's essential for people looking for lash tech classes near them - that is why our curriculum caters to beginners through advanced experts alike!
By enrolling in our lash tech courses, you will gain insights into the latest techniques , eyelash packs and bundles for lash technicians and trends within the industry. Our knowledgeable instructors ensure a supportive learning environment, helping guide each step. Not only will you learn lash extensions, but our program also covers client management strategies and business essentials to kick-start your career successfully.
"Eyelashes (or simply lashes) are hairs that grow on the edges of the upper and lower eyelids. The lashes protect the eye from dust and debris by catching them via rapid blinking when the blink reflex is triggered by the debris touching the lashes."
Selecting an experienced lash technician near you is crucial, so our school specializes in teaching the skills needed to stand out from this competitive industry. Once completed, our course equips students to deliver exceptional service to clients, building loyal clientele bases.
Join our program now and take the first steps toward becoming one of the sought-after lash techs in your region! Invest in yourself, embark on an inspiring career path in the beauty industry & unleash your potential as a skilled lash technician! Don't miss this chance; enroll now & unleash your potential as a skilled technician!
How to Become a Certified Lash Technician
You may be wondering. "How does getting the lash certification work?" Lucky for you, I have the answer! I'll break it down into just a few easy steps.

Step 1: Do Your Research on Lash Training
Becoming a certified lash tech requires training, of course. But don't worry, eyelash extension training is a fun process! The best part is once you complete your lash tech certification, you can start making clients look fabulous with a new set of eyelash extensions.
A lash certification course will cover everything you need to start your career as a certified lash technician. From sanitation to application, this is the first and most important step you will take toward your new career!
Eyelash extension certification classes range in price from $300–$2,000. Content, kit, duration, and reputation have a lot to do with the varying prices of lash classes. Make sure you know what to look for in a lash training program to pick the right class for you! Most certification training also requires you to be licensed, though it differs from state to state.
Step 2: Check Your State's Qualifications
Certain states require different licenses to do lashes for clients. But fear not, we've already compiled the list of licenses each state requires. Be sure to check out your state's qualifications and what it takes to become a lash pro.
Once you have met your state's qualifications, it's time to choose a lash certification program! Hooray!
Step 3: Choose a Lash Certification Program
Congrats, you're almost there! Show the world the boss babe you are by completing a lash tech certification course and starting your lash business.
There are plenty of lash tech certification programs out there to choose from. Make sure the program you select is taught by high-quality lash artists, is a moderate price, and provides continued customer service for alumni!
The Lash Professional offers eyelash extension classes, including a certification upon completion online and in over 20 states.
The Lash Professional's Certification Programs
Lucky for all of you future lash babes, I have the answer for you… and the facts! The Lash Professional has several education classes that include lash tech certification! Their classes are reasonably priced at $395 each and are perfect for beginner and advanced lash babes alike. The Lash Professional has gone above and beyond to cater to the up-and-coming artists of the industry and would do just about anything to see YOU succeed.

This may sound biased, but I've been through the exact same process. Before I became a lash technician and The Lash Pro's trusty-blog-babe, I was looking for a perfect career, too! The Lash Professional offers continued support to all alumni. They believe that lash education shouldn't be limited and invite their students back, anytime, for refresher theory courses! The professionals at Lash Pro will welcome you with open arms and provide answers to any questions you have! Having the support of my lash sisters at The Lash Professional has truly made me the successful certified lash technician that I am today. I'm not the only one, though. Nina, a Lash Pro Alum, left this glowing review:
"…I am picky with my lashes and my education, and I got extremely lucky to find the best of both worlds at this company. I can truly say without a doubt that this brand is run by the most kind, empowering women who encourage, support, and build the confidence of other women around them. They break all the stereotypes [of the beauty industry] in a good way. When I had the opportunity to learn from them via certification and practice, I would always leave feeling much more motivated to enter the beauty industry confidently knowing I received a quality lash education.
I think the beauty industry is all about helping empower individuals to feel their best not only externally but internally, and this company truly embodies that thought."
Go ahead and check out the rest of the testimonials from boss babes like you! With amazing certification courses and high-end products, this company has it all. Become a certified lash technician through The Lash Professional and start your career with a bang.
Lash babes unite!
Read more about: How to Become an Eyelash Technician