Breaking down Eyelash Extension Curl and Size
February 18, 2021 by The Lash Professional.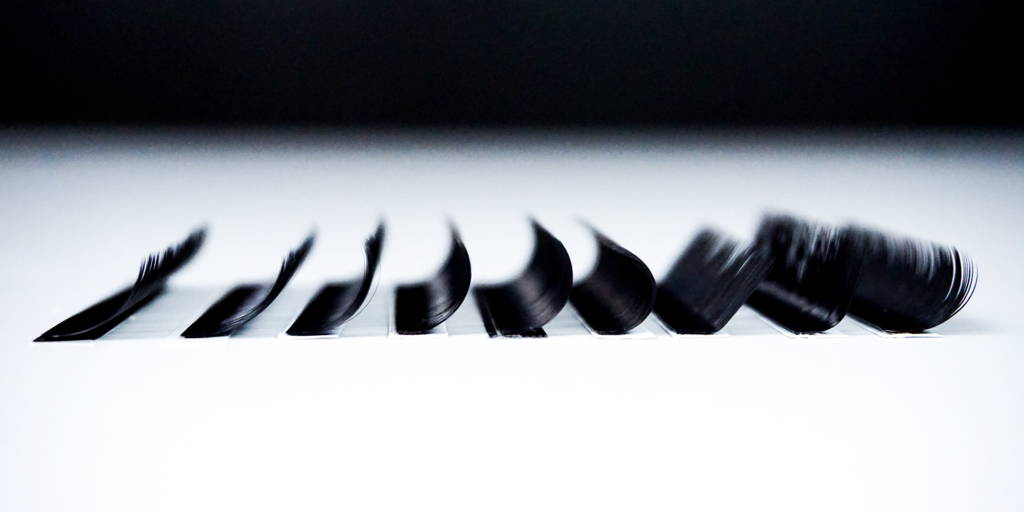 There are so many different eyelash extension curls and sizes. Becoming familiar and comfortable with these will be crucial to your success as an artist! And yes, doing so will get easier.
THE MORE YOU LASH THE MORE YOU LEARN!
Let's start with J curl. J curl lashes aren't ones that you will use often, but when you do use them you will be jumping for joy that they were an option! This curl is specifically intended for the client who has stick straight lashes that almost seem to point downward. These clients are tricky, and there are a few options you can use. J curl will give them the most natural and simple extension of their natural lashes!

The next option for clients with lashes that are straight is going to be a B curl! This option will give the downward pointing lashes a bit more "lift." This curl has a bit more curl than a J curl but is still a great option for the client with tricky straight lashes.
I'm going to jump out of order here. The third option for clients with straight lashes is an L+ Curl. An L+ curl is basically a C or D curl with a flat base. Don't worry, I will cover C and D curl next. Because of the flat base on the L+ curl, you will be able to give your tricky client the ultimate lift and curl will still properly fully adhering the base of the lash! These are, by far, the most visual rewarding.
Ok, as promised, the oh-so popular C and D curls! These are probably the lashes you will use most often. C curl lashes are intended for clients with a slight curl in their natural lash and will create an open-eye effect. D curl lashes are very similar, just curlier! They are intended for a client with a slight-dramatic natural curl who wants a dramatic look! These lashes will brighten and widen the eye and give a very visible curled effect. For even more lift, go with volume D curl lashes.
Enhance your lash game with the diversity of different eyelash curls, brought to you by The Lash Professional. When you choose to buy our lashes, you're not just investing in extensions; you're selecting from a range of lash curls that cater to your unique style. Unlock the beauty of eyelash extensions with a lashes length chart. This invaluable tool acts as your personal guide, detailing various lash lengths to achieve your desired look. Whether you prefer a natural flutter or bold drama, the lashes length chart ensures informed decisions for lashes that perfectly frame and enhance your eyes. Elevate your lash game with precision and personalized style.
Experience the art of lash customization with different lash curls, find the versatility of different lash curls, each offering a distinct look to complement your style. Opt for a natural 'J' curl for an effortlessly chic appearance, or choose a glamorous 'C' curl for added drama. The 'D' curl provides a more pronounced lift, while the 'L' curl offers a unique flat base. Tailor your lash look with precision using various lash curls for a personalized, eye-enhancing experience. each designed to enhance your beauty effortlessly. Whether you prefer a natural look or a bold, dramatic effect, The Lash Professional has the perfect options for you.
Purchase our lashes and explore the lashes length chart to find the ideal fit for your eyes. The specifications of our lashes guarantee a seamless blend with your natural lashes, providing a comfortable and stunning result. Get ready to boost your confidence and choose The Lash Professional for an unparalleled lash experience. Shop now and elevate your lash game with the finest quality lashes and diverse curl options.
Eyelash Extension Size Chart and Guidelines
Choosing Lash Extension Sizes
So how do we choose the right length and diameter? First of all, you will generally only use .03 – .10 when doing volume lashes. Second, always follow these two rules of thumb:
1. Chose a length no more than 2-3 mm longer than the clients natural lash.
2. Match the diameter to the client's natural lash (going only slightly thicker for a more dramatic look).

*Why go only 2-3 mm longer than the clients natural lash and match the diameter?? There are lengths up to 20mm and diameters as thick as .30mm! If your client's natural lashes are 10mm long and .10 mm thick and you throw on 20mm/.20mm lashes, they will not last and they could possibly even be too heavy! Lashes that are too heavy will cause strain on the lash follicle and could result in sparse regrowth.

Free Shipping on the Best Lash Extensions
If you need to stock up on lashes for your clients, or even for yourself, The Lash Professional offers all the curls and sizes you need. The best part? We ship all U.S. orders for FREE. No hassle, no fine print, and no minimum dollar amount required. We want your products to arrive as quickly as possible (and without the additional charge) so you and your clients can enjoy the best lash extensions.
Learn More: B Curl vs C Curl Lashes: Which One Should You Use
NEED TO STOCK UP ON LASHES!?