Lash Extension School: What to look for in a lash training program
February 19, 2018 by The Lash Professional.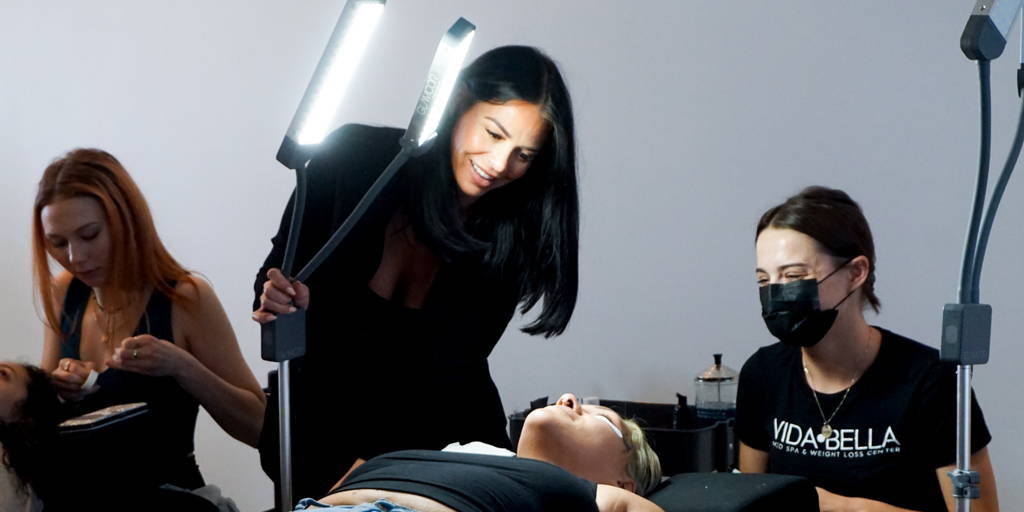 The lash industry has been growing and growing alongside the popularity of lash extensions. Lash companies and even lash artists are beginning to fill the demand of more and more licensed professionals who are wanting to add "lashes" to their service menu. With an increased amount of lash education programs becoming available there also comes more of an opportunity for scams and poor education. So how do we weed out the bad ones and find the schools that will really take you to the next level?
There are a few things you should look for when researching and deciding what lash extension training will work best for you. You will want to start by creating a list; a list of questions to ask each lash extension training program you find.
Who is teaching your lash training course and what are their credentials?
When searching and researching different training programs, it is common to come across a single lash artist or unaccredited company who is teaching lash courses. You will want to ensure that the course you choose to take has accredited instructors who have real-lash-world experience. Unfortunately there are some people who see the demand for lash extension training courses and will create a training program, having no advanced education themselves!

The Lash Professional's educators have all been thoroughly trained in Classic, Volume, and Advanced Lashes. Our educators were required to exercise their skills on a number of individuals prior to receiving any lash salon experience, and required to have a minimum of 1600 hours of lash salon experience prior to being a part of and/or teaching our lash training courses.
What comes in your lash extension kit?
This is a question that will require some personal preference. If the contents of a training program's lash kit are not a high priority to you, this may not be a necessary question. I do, however, suspect that most people want the most for their money! A lash kit should provide you with everything you need to complete a minimum of your first 5 services on your own! Most training programs will have the contents of their kit posted, but if they don't you will know to ask this question!
Even just our Classic kit, at The Lash Professional, will allow you to complete 10 services.
The kit includes:
-3 Mixed Length Lash Trays
-Pro Adhesive 10ml
-Primer
-Remover
-10 pair Gel Eye Pads
-Crystal stone
-Lash Tape
-50 Mascara Wands
-Lint-Free Micro Brushes
-Precision Eyelash Scissors (for cutting lash tape)
-Precision Tweezer Set
-The Lash Professional Case
Some of these products may even last you 30-50 services, not to mention we ALSO offer an Advanced kit with double the amount contents! Not a bad way to start lashing, huh?
Do you provide a lash training manual?
We have heard horror stories of students who have signed up for courses and not even received a manual. By asking this question, you are opening up the line to the company to be outright and honest about what is included in their price. A manual is a MUST HAVE. If a training program has not put the time and energy into a manual for their program, it is possible that they won't put much time and energy into their course or their students! Steer clear.
The best eyelash extension training should have a manual with an absolute MINIMUM of 50 pages, and guess what?! The Lash Professional has 2 times that amount of information. That's right, our manual is 100 pages of in depth lash info that will allow you to leave feeling confident in your knowledge and ensure you have information you need to refer back to with any questions!
How long is your eyelash extension training program?
This is a tricky question as companies can get away with making their program sound much lengthier than it really is. That is why it is important to ask how many hours AND days their lash extension training program is. It isn't uncommon to see companies split their days in third to allow them to say their course is a 5 day course! (ie: 2 hour days x 5days as opposed to 8 hour days x 2 days) You will want to ensure there is designated time to learn and designated time to practice!
Nearing almost 100 employee and student training courses, The Lash Professional has perfected the algorithm of theory to practical. Our course has an entire 8 hour day full of theory and in-book learning. The second day is 8 hours of practice on live models with constructive guidance.
Can I bring models for practice during your course?
Practicing on a model is essential to your understanding of lashes and your success as an artist. Without this real live-practice, there is no way to ensure that you are ready and prepared to take clients! Asking this question will tell you whether or not the company is invested in your success in the lash industry. You may even want to ask if they are providing your models or if you are expected to provide them; you will want to be as prepared as possible!
The Lash Professional allows an entire day of hands on practical learning. This means you will have a full 8 hours to bring in 2 separate clients and work while receiving feedback and guidance! We want to ensure you are as prepared and comfortable in all situations throughout your career!
Will I receive a professional lash extension certificate?
A lash company or training program MUST provide you with a professional certificate. Many employers as well as continued educational classes will require you to have a signed and dated lash certificate. This certificate should clearly state that you have completed a course and are certified in either Classic or Volume lashes…or both!
With our certificate of completion, you have the opportunity to progress throughout the lash industry and get perks and discounts on products! With either Classic or Volume, you qualify to be a Brand Ambassador! A brand ambassador will receive discounts, exclusive products and gifts, and social media promotion!
I've done your research, in depth, for The Lash Professional. So what are you waiting for?