Why You Should Do Lash Extension Training Online: 4 Benefits
May 9, 2019 by The Lash Professional.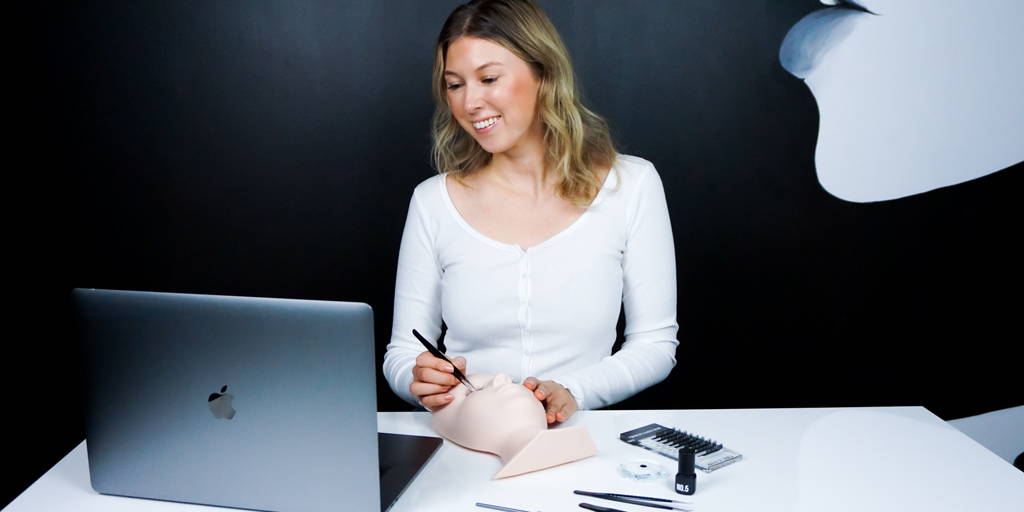 It's time to roll up your sleeves and get down to business!
There are lash enthusiasts out there who are procrastinating their lash extension certification for all the wrong reasons. Today, we are here to give you all of the right reasons to start your training!
Lash extension training can be intimidating. Nevertheless, lash extension training online can remedy the time-constraints or anxiety that you may have attending lash training.
Online courses get a lot of flak, but we are here to make a case for an online lash extension course.
Let's get to the nitty-gritty of why should consider lash extension training online!
Benefits of Online Lash Extension Training
Location

Location, location, location! There are many amazing lash extension schools across the country and around the world. However, if you aren't within a commutable distance, you can't reap the benefits. With lash extension training online, you have the ability to learn from industry-leading lash artists from the comfort of your home. You heard it – complete your lash extension training online from the comfort of your home in your favorite silk pajamas.
This benefit is especially important for lash enthusiast who sees demand in their community; however, do not have readily available artists in their area. Complete your lash training online to fulfill a demand and reap the monetary benefits!
Flexibility
We get it, boss babes, it can be hard completing an in-person training course especially if you have other responsibilities to fulfill! With this in mind, you can complete your lash extension training online without disrupting your hustle. How? Oftentimes, online courses do not have set meeting times, hard deadlines. This means that you can work at your own pace and complete lessons when it fits into your schedule, not the instructors.
This flexibility is beneficial for many hardworking individuals. Even better, it is a great perk for those who learn best at a unique pace. Keep reading to learn more about the online training pace!
Pace
We all learn at our own pace! This should be taken into consideration especially when learning a procedure like lash extension application. As said before, online courses don't have set meeting times or hard deadlines. In addition, courses are self-paced. That means that students can take as much or as little time as they need on a lesson. Additionally, lessons can be revisited multiple times in order for topics to be fully understood.
Whether you are excited to complete your training and want to power through or need more time to comprehend a lesson, lash extension training online is your best bet!
Price
Lash ladies, we've saved the best lash extension benefit for last! Typically, the price of online training versus in-person training is less expensive. This is great news for aspiring lash artists rolling on a budget. The expenses associated with in-person training vary widely from course-to-course. Cost includes commuting expenses, and labor costs.
All in all, for a cheaper price, you can receive the same quality instruction that you would get at an in-person training course.
Start your online lash training today!