13 Types of Eyelash Extensions
November 9, 2018 by The Lash Professional.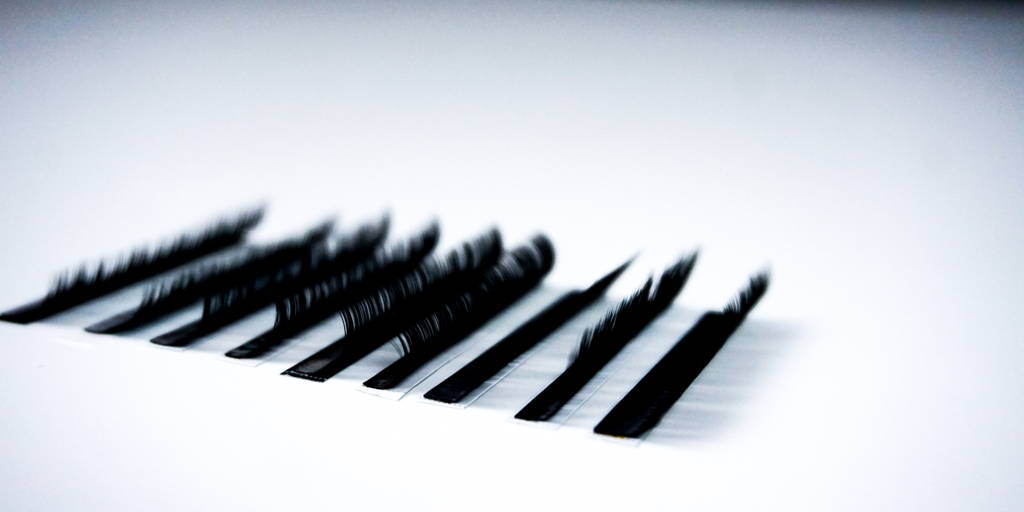 Lashing is not easy. Between managing clientele, committing the different types of eyelash extensions to memory, to adapting in an ever-changing industry, you deserve a pat on the back (and maybe a glass of champagne, or five). Especially when first starting out as a lash technician, even something as simple as choosing the best type of lash is daunting. After all, not all eyelash extensions are created equal! In fact, each of the unique types of eyelash extensions comes with its own specific guidelines.
With that being said, matching your client's lashes with the proper extension is an integral part of the process. In fact, if the wrong shape is chosen, you risk your client's lashes falling out prematurely. And trust us – no one wants to start off their lash career with an unfortunate gallery of bad reviews. So, regardless of your client's eyelash shape or whether they prefer "daring and bold" or "as natural as possible", there are more than enough types of eyelash extensions to get the job done right.



1. J Curl
Let's start with the rare, but definitely not forgotten, J Curl. J Curl extensions are perfect for any ladies wanting natural-looking, lengthy lashes rather than a dramatic, open eye look. These lovely lashes will appear longer than others of the same length due to a delayed curl on the lash. While best used on clients with straight lashes, J Curl lashes are not encouraged for clients with downward facing lashes.



2. B Curl
B Curl lashes are similar to J Curl, but with a little more "va-va-voom". For clients requesting a natural, "I woke up like this" look, B Curl lashes will do just that. However, it is important to note that, similar to the J Curl, B Curl lashes add more length than curl. Once again, this lash is not recommended for ladies with downward facing lashes.



3. C Curl
Now, onto crowd favorite – the C Curl! C Curl lashes bring the trifecta - volume, length, and curl. Generally speaking, these lashes can be used on most any eye, excluding a hooded eye or very straight lashes. Rather, classic C Curl lashes are best for clients with a slight curl in their natural lash and ladies looking for a perfect, curled look.



4. CC Curl
Where "girl next door" meets "girls night out", you will find the CC curl. This lovely lash mixes all the best qualities of the C curl and D curl and delivers a popular choice for any client requesting "subtle, yet dramatic". CC curl lashes are used often for volume applications and giving lashes a flawless pick-me-up.



5. D Curl
For a look that catches stares and delivers them back, we recommend D curl all the way. These curly lashes will create a doll-like appearance that opens up the eye. Optimally, D curl lashes should be used on a client with downturned eyes or a client looking for a dramatic look. The Classic D Curl is a fan favorite for a reason!



6. L Curl
What do you get when you mix the oh-so-popular C Curl with a flat base? Of course, we're talking about L Curl lashes. L Curl lashes are our #1 choice for any client with inset or hooded eyes. With a curious shape that resembles an "L", it's hard not to love the graceful lift of this unique lash.



7. L+ Curl
Maximum lift, maximum drama. Similar to the L Curl, the L+ Curl is perfect for clients with downward-pointing lashes or hooded eyes. L+ lashes give the appearance of curled lashes but without all of the effort.
And now, let's get creative. Although black lashes are by far the most popular, nothing says "dramatic" like a colored lash...



8. Brown Eyelash Extensions
Brown lashes bring "natural" to the next level. They present a perfect alternative for any blonde or redhead who prefers natural tones. We recommend pairing brown and black lashes for a sultry, delicate look that will make your client's natural eye color POP!



9. Green Eyelash Extensions
Where "bold" meets "earthy", you will find adventurous, green lashes. Forget about funky accessories and statement fashion pieces – green lashes add flair and personality to any day-to-day look. We recommend these trendsetters to those with green, hazel, or brown eyes.



10. Purple Eyelash Extensions
For a dashing, fantasy look, purple lashes make any green or hazel eye stand out from the crowd. Go all-out purple for dramatic, fairytale lashes, or play it safe by combining with black lashes for vibrant, yet subtle tones.



11. Blue Eyelash Extensions
Regal and striking, blue lashes add an unexpected touch of romance. When paired with black lashes, the blue hints of color create a rich depth and intrigue to any client's natural eye color, especially those with amber, blue, or brown eyes.



12. Red Eyelash Extensions
Taking sexy and bold to the next level, red lashes make a daring statement. This unexpected pop of color is perfect for any fearless woman daring enough to create waves and take charge.



13. Rainbow Eyelash Extensions
Definitely not for the faint of heart, rainbow eyelash extensions do all of the talking. For a little extra dimension, you absolutely cannot go wrong with a dash of color.



The Lash Professional
When it comes to inexpensive, quality lashes, The Lash Professional is your one-stop shop for everything l-a-s-h. We are a passionate team of industry experts, dedicated to sharing our art, stories, and expertise with you through a powerful educational program and high quality, wholesale products. If you are ready to dive into the world of lashes, contact us at (480) 588-5160 or take a peek at our website to learn more.