10 Best Eyelash Extensions in Atlanta
May 10, 2019 by The Lash Professional.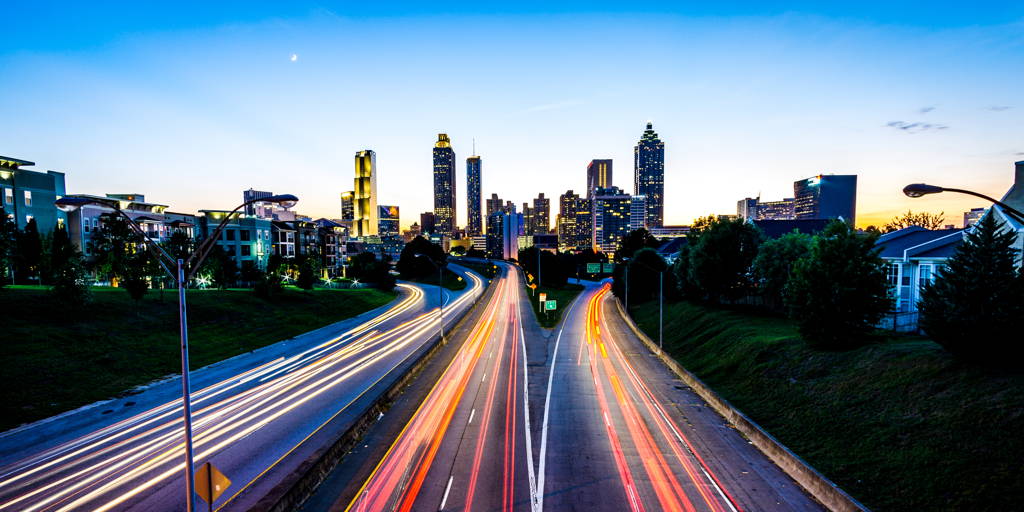 We all love Atlanta and we all love eyelash extensions. So, put those together and you have the best eyelash extensions in Atlanta. Make an appointment at one of these top-rated lash salons asap! Why wouldn't you?!
Blushbaby Lash & Makeup Studio
Blushbaby is on the top of our best eyelash extensions in Atlanta for a reason! This lash heaven has been around since 2011. Yeah, these ladies have experience. The owners Michelle and Khadija know exactly how to make your face pop. Stop by their studio to make sure your eyelash extensions are in good hands.
"I'll preface this review by saying I've had lash extensions consistently for the past 4 years (addicting, beware!) and Blushbaby is the best place I've found in that time! Khadija and Michelle are both supremely talented and their work is the best quality - every time I come in they remark how many lashes I still have and it is true, their work LASTS! I've also had some painful lash sessions in the past and at Blushbaby I can tell you that you really will get a lash nap if that's what you're after - no. pain. ever. Invest in yourselves ladies, you are worth it!" Judie
---
Flawless Lashes
If you're getting your eyes done, you want the best of the best right? Flawless Lashes is definitely one of the best eyelash extensions in Atlanta. Want a soft classic set, they got you! Want that volume, they do that too! Make an appointment asap, because they book up fast!
"I've been going to Flawless for several years. I love the owner Sarah and my lash stylist Julia. You will not find anyone like them so don't bother looking. Lol. Seriously, come here and experience the professionalism, the spa type atmosphere and the beautiful and incredible art of lashes. Someone told me today she thought my lashes were natural. Yep, I love them!" Sheri
---
The Lash Designory
This place is the cutest. Seriously, Megan designed one of the best spots for eyelash extensions in Atlanta. Not only has she created an A team, but she also created a lash family. This place is a must go for eyelash extensions. Go!!!
"I would never go anywhere else for lashes. My friends love to brag about their cheaper lash extensions but then guess who ends up needing a break every few weeks due to the damage I have never once experienced breakage or irritation from this place, in fact, I usually fall asleep during the appointment!! Super relaxing and nobody can tell my lashes are fake. They just say how amazing my lashes are and call me lucky. Then I always refer them to Lash Designory. I was so nervous about getting extensions but Morgan was sweet enough to call me and answer all my questions!" Leigha
---
Sweet & Lashful Day Spa
Nancy Shim created a spa that makes you never want to leave. This pretty babe knows what she is doing. Stop in and meet one of her talented lash artists for the best eyelash extensions in Atlanta. This place has it going on.
"The first time I got eyelash extensions was at Sweet and Lashful with Yanyse. Since it was my first time she went through the whole process with me and made me feel very comfortable. We looked at different types of lashes and curls to decide what I liked best. She did an amazing job and they turned out exactly how we spoke about! The process itself is so relaxing, the beds and headrests are comfortable and they have blankets available. I look forward to going and taking a nap now! I have also seen Jennifer for a fill and never had an issue. These pictures are my most recent fill with Yanyse!"Brittany
---
Blink & Wink Eyelash Extensions
Anastasia has an eye for detail and it shows. Blink and Wink was not only opened by the most requested lash artist in Atlanta, but it also has a team of experienced lash artists ready to take your lashes full glam or soft and natural. Yes, please!
"I am a film and television makeup artist who travels from city to city, state to state needing lashes specific to my eyes .. so I know good and bad lash artists.. these girls know what they're doing .. their lashes stay on and they deliver on exactly... what I want and being a professional makeup artist myself trust me I know !! . I've figured out my formula and these girls didn't even need me to tell them what I needed other than full as possible but keeping my lashes healthy too! Diana does such an amazing job and she's so fast. I book 2 months in advance .. when I'm in Atlanta these are the girls I'll drive 30-40 mins to. No doubt about it. Asian lashes are difficult. And they always deliver! Thank you!!!" Jenny
---
Beauty Fetish
Sandye, the owner of Beauty Fetish, was named Celebrity Lashologist to the Elite by Jet magazine. This lash boss says, "there is nothing greater than enjoying what you do for a living", and girl, it shows. If you are looking for the place to get some bomb eyelash extensions in Atlanta, this is the place. Make an appointment with Sandye and she will hook you up.
"I found beauty fetish in 2012 and have been going to see Sandye for my lashes ever since! She does a great job but better yet she does such a good job that I can continue to get my lashes done after 7 years because she does it the safe and healthy way. So many lash places these days do a botched job but not at Beauty Fetish. I still have as many lashes as the day I started and that's because they are PROFESSIONAL and QUALITY. So thankful I found Sandye all these years ago!" Robin
---
The Lash Lounge
If you're looking for a great set of eyelash extensions in Atlanta, you need to try The Lash Lounge. You can't go wrong with any of their lash artist's. No need to thank us, we got you boo.
"Could not be happier with my lash extensions. My first set with another lash stylist went well initially but was unfortunately too long, got tangled, and was extremely uncomfortable. The stylist at Lash Lounge heard my concerns and made my lashes look gorgeous, even better than expected!" Sam
---
B-NEW Beauty Studios
The Lash Professional loves B-New Beauty Studio. Why? Well because B-NEW Beauty Studio believes in enhancing their client's natural beauty. And, they believe all their clients have natural beauty. Uh, yes. They are our kind of people. Stop in for some great eyelash extensions in Atlanta, woot, woot!
"I have nothing but good things to say about this place! I have been getting my lashes done by Tiffany for 2 1/2 years and there's no one else I would trust to do them. She is absolutely wonderful and so is this studio/business she has created!! I would recommend to anyone, 5 stars all the way!!!" Savannah
---
Beauty By Anh
Everyone is obsessed with Anh! And so are we. How can you not be? If you're looking for the best place to get eyelash extensions in Atlanta, this is your lady. We're all obsessed for a reason.
"Thank you! My friend got eyelash extensions, and they looked amazing so I decided to tag along for her next appointment to get my lashes done as well! I have never received any beauty services before and was a bit intimidated, but this was the best first experience I could ask for. Anh is a professional and answered all of my questions with patience and honesty." Jennifer
---
LashOut
Want eyelash extensions that make me stop? You have to try LashOut. We recommend making an appointment way ahead of time, cause this place is poppin'.
"I was in town on business in Atlanta and needed a fill. Not only did Kalia squeeze me into her already booked schedule last minute, but she also did such an amazing job on my lashes, that now I want to find her equivalent back home where I live in LA! I'm going to get another fill before I head back just so I can get as much wear out of these gorgeous lashes as I possibly can! I got the classic set and couldn't be happier! Great price too! Thanks, Kalia!" T.H.
Want to learn how to apply eyelash extensions?
The Lash Professional is holding classic eyelash extension training in Atlanta.