Catchy Lash Business Names
April 9, 2018 by The Lash Professional.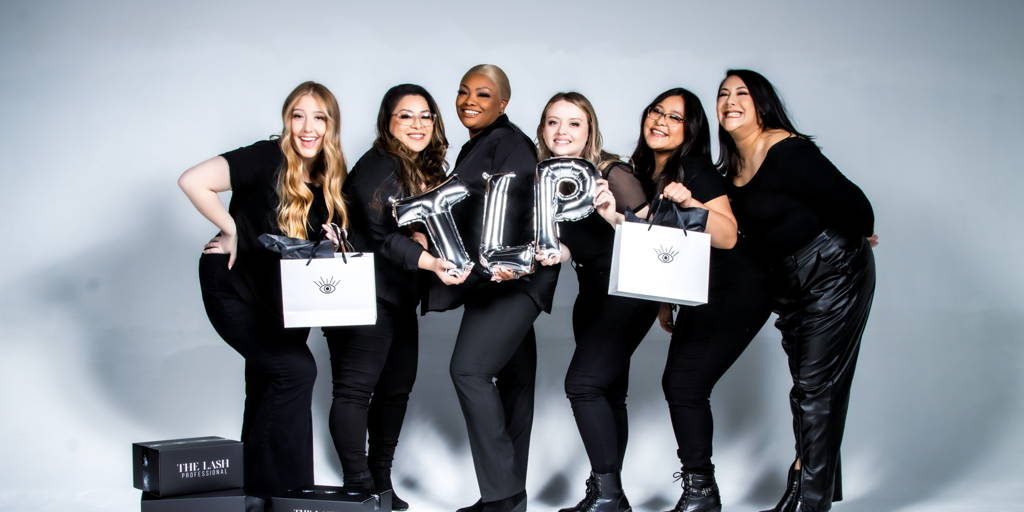 Finding the right name for your lash business is the first and most important step in starting a business. Creating a professional name and brand will be what connects clients and keeps them with you; it will make you successful for years to come! There some things you will want to consider before settling on any lash business names, though! These four considerations will guide you in the right direction.
1. Easy to Remember: Creating a lash business with a difficult name will immediately eliminate client retention. Establishing a name that is simple or catchy and easy to remember will ensure your clients not only remember you and come back, but will tell other people about you, too! You want a name that will ensure your success: straightforward, simple, and memorable!
2. Original: Have you ever been standing in that wine isle at the super market trying to make an uneducated guess on which wine will pair best with your pint of triple chocolate rocky road ice cream? I'm not sure about you but I always go for the wine with the original name or logo; the one that stands out! Every industry is the same. Creating a unique, original name will work wonders with attracting clientele. It will ensure you stand out in this industry. Make sure you do a little research before settling on a name to be positive there is not another business with it!
For example, say you decide you want to be called Lashes by Lily. That sounds super catchy, right? When a client put's Lashes by Lily into their Map to see how long they can sleep in before their appointment, maps will show similar results, as well! That means Lashes by Lindy, Lashes by Leslie, and Lashes by Liana will all show up and that creates a new obstacle for your business.
3. Searchable: Searchable means that people who are looking for "lashes" can easily find your business (via the internet). It should have a clear and relevant name. The goal is to be the FIRST result to pop up when potential clients search "Lash salon" or "Lashes in my area". For that reason, most people choose to use "lash" or "lashes" as their searchable word. I wish I could say there are alternatives but incorporating "lash" into your business name is going to give you the best search engine optimization (SEO - read all about the ins and outs of it on Entrepreneur.com!) in this industry. It's the word(s) that you choose to pair it with that will make your business unique.
4. Branding: The name that you settle on for your lash business will need to flow well through all aspects of your business. Doing so will help you to establish a brand. There are two huge parts to establishing a brand: logo and story. Start with a logo. Considering your logo when choosing a business name will be incredibly beneficial. A logo will allow clients to be able to use visual memory when identifying your business, not just linguistic memory! Make sure your business name has plenty of logo possibilities.
The second step in branding is a story, meaning your business's back story! This story should flow well with your name and your logo and will guide you in creating a mission statement and all the little things that follow choosing a name. Clients who can relate to or become emotionally connected to a business's back story will be clients for life!
The Lash Professional optimizes all four of those categories. Our business name is easy to remember and is straightforward. It is original and there are no other supply companies with a similar name! The Lash Professional is incredibly searchable for professional lash artists who may be searching for "Professional Lash Supplies" or "Supplies for Lash Professionals". Finally, our name was so easy (and fun) to brand! Our logo is simple and cohesive with the name and our brand.
Instead of just guiding you in the right direction this time, I've decided to give you a Get Out of Jail Free card (CHA-CHING) with some specific examples to make sure your awesome new business gets off to the right start! Here are some salons with great names that have become incredibly successful:
LA Lash @lashes – This lash salon is the perfect combination of simple and specific. Their name immediately makes it clear where they are located and what they do! What better strategy could you have?! Anyone searching for lashes in LA will be sure to come across their cute space.
The Lash Loft @thelashloftsalonandspa – The Lash Loft is a little New York City salon. They totally had the right idea when creating their name. It's catchy, memorable, and attracts the right demographic for the area.
The Lash and Sugar Co. @thelashandsugarco – This salon is a local Arizona Salon that has a very clear and catchy lash name! They offer lashes and sugaring, so the name is perfect. It is easy to remember, searchable, and branded beautifully! They are one of The Lash Professional's partnered salons, too. Once you get your business up and running, check out our Salon Partnership Program for discounts and perks!
These examples should give you what you need to start brainstorming! Try answering these questions to get your brain juices flowing. Pull out a piece of paper and respond to these questions with one-word answers:
Who is your target demographic?

What do you have to offer to this demographic?

What words will resonate with your target demographic?

Who are your competitors and what are their names?

What sets you apart from your competitors?
Testing Your Lash Business Name
You've established a list of some effective and relevant words for your business. Now, start to smoosh them together! Come up with a couple (one, two, or three-word) business names. Revisit the four considerations and ask yourself these questions.

Can the name be easily remembered? Will my clients be able to tell their friends about me?

Is it unique and original? Will this name make me stand out amongst my competitors?

Is it searchable to my target demographic?

Is there a story behind it and can it be easily branded?
If you are stumped and just need some generated examples, try a name generator like the one from Shopify.com! Keep in mind, these are computer generated and some names that may sound good for a retail store won't always sound good for a lash business (such as "cheap lashes" …no no no!). Although generated names like "Unique Lashes" and "Lash Me" may not always end up being THE ONE, they sure will help you think of the perfect name for your business!

Starting a new business can be scary if you let it... Don't let it! Have some fun with it and make it uniquely yours.
For more tips and tricks for aspiring lash artists like you, browse our list of advice articles here!
XOX,
Sedona