Where to Buy Eyelash Extension Supplies
October 8, 2018 by The Lash Professional.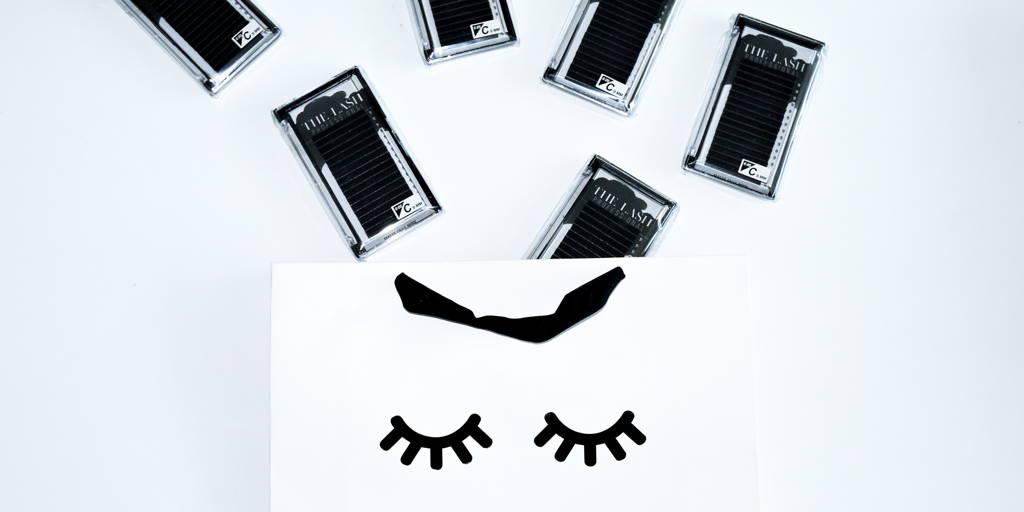 So you're finally a lash artist (yay!), but now you're feeling overwhelmed by all the online eyelash extension supplies. Where do you even begin? How do you know what company to buy your eyelash extension kit from? Should you buy eyelash extension supplies from Amazon or the latest greatest lash brand you saw on Instagram? Or what about that Chinese brand that keeps sliding into your direct messenger?
Having lash product options is a good thing, but too many options can be very overwhelming. That's where The Lash Professional team comes in! We're here to walk you through your options and let you know exactly where to buy eyelash extensions supplies.
Oversea Vendors Eyelash Extension Supplies
Have you been directly messaged on Facebook or Instagram by an overseas vendor offering you extremely low prices for every lash product you could dream of? Let me be honest with you — I definitely have. The Lash Professional trainers and our lash artist community all have at some point, so I'm guessing you have too!

Low prices for eyelash extension supplies are something we all want, so it seems like a no-brainer. I mean, who wants to pay more for something? Unfortunately, the truth of the matter is that those "cheap" lashes are probably too good to be true.
The worst-case scenario is that the credit card you used for your overseas lash product purchase will have fraud charges almost immediately after your purchase. And yes, you can get those charges reversed, but who wants to go through that struggle? Not me!
Okay, the second not-so-good scenario is that you don't receive the lash products you ordered. The overseas lash company takes your money but doesn't send you the product. Again reversible but overly annoying and time-consuming.
Third bad scenario: the lash products you receive are the worst quality you've experienced. They're so bad you'd have to be willing to ruin your reputation to use them. Don't even think about it!
Is it possible to have a good scenario when you buy eyelash extension supplies from an overseas vendor?
Sure, it's a possibility. If you want to purchase your eyelash extension products overseas, we at The Lash Professional strongly suggest you spend lots and lots of time researching lash companies and their products individually. It can be a time-consuming task, but the alternative is much worse! We also strongly suggest ordering samples before investing your money into any products.
Lastly and most importantly, keep in mind that most overseas companies will only sell in bulk, so production and shipping can take up to 90 days. If you need your products sooner than that, you may want to consider an eyelash extension supply alternative.
Amazon Eyelash Extension Supplies
You can buy just about everything on Amazon now! I personally use Amazon as my go-to shopping center for all professional eyelash extension tools. It makes my life so much easier, and who doesn't want an easier life? The great thing about purchasing your lash extension supplies off of Amazon is most products will ship crazy fast and for free! Some even have exclusive offers for Prime members. What a dream!

Unfortunately, there is one big problem you might run into when you buy eyelash extension supplies from Amazon — knock-offs. Even in the lash world, we have knock-offs. Oversea vendors copy lash brands' packaging and sell the knock-off eyelash extension supplies on Amazon. Amazon does its best with this issue, but it's definitely something to watch for.
To avoid this situation when shopping on Amazon, check reviews for the lash extension supplies you're interested in buying. If people have had a bad experience with a company and their product, you'll definitely hear about it in the review section! Check for reviews with high customer satisfaction to find quality lash supplies.
Pay close attention to the lash extension supplies' description as well. Most overseas vendors won't write out a full description of the product. However, if they do, the description may be lacking in detail, grammar, or punctuation. Save your money and time by doing a little research before completing the purchase.
Lash Brand Websites Eyelash Extension Supplies
Purchasing your lash supplies from an actual lash brand website is the safest way to receive professional eyelash extension products. You don't have to worry about credit card fraud, the speed of shipping, or the quality of the products.

Don't know the lash brand well? Research is a lash pro's best friend! If you really want to try out an eyelash extension brand you're unfamiliar with, check out their Instagram, online reviews, and website. You can find out a lot about a company by reading their blogs, product descriptions, and efforts to make sure all the lash product details are dialed in. If they're not paying attention to their social media or website details, they most likely aren't paying attention to the details of their products.


Eyelash extension supplies are totally okay to buy online. Come on — everything is online, right?! You just need to make sure you are buying your lash products from the right place and brand. The right lash vendor or lash company is an expert in the industry. They have a positive reputation that they will do anything to uphold.
Still unsure? Try a product or two before buying all the lash extension supplies you use. It's better to be safe than sorry!
And, while exclusive offers are alluring, you get what you pay for, especially with lash products!
Shop Your Lashing Supplies with The Lash Professional
The Lash Professional is a trustworthy source for all your lash extension supply needs. We understand that customer satisfaction is a top priority for our lash pros, which is why we spend so much time crafting the highest quality eyelash extension supplies. Wondering what kind of lash products we offer? We'll tell you!

Black Lash Extensions
You can't exactly apply lashes to your client without the actual lashes, can you? The Lash professional offers a wide variety of eyelash extensions so you can provide your client with the look of their dreams! Want to try your hand at mega volume lashes? We've got you covered. Is your client looking for a more natural lash look? We've got that too! Our faux mink lashes are bound to leave every client with a smile on their face and a lift in their lash.
Eyelash Extension Tools
Find all the quality eyelash extension tools you'll need right in our shop! Practice your skills on our reusable eyelash mannequin or stock up on disposable mascara wands that will keep your station sanitary for every new client. We even offer a fashionable eyelash extension pillow and matching pillowcase so your client can rest comfortably during the lash application process.
Eyelash Extension Application Tools
Glue, primer, and remover — oh my! Our stocked shop provides you all the application tools you'll need for a smooth lash application process. Shop our gentle lash extension primer, and be sure to throw in an extra eyelash extension glue so you never have to worry about running low!
With all these eyelash extension supplies and more, what are you waiting for? Head to our shop today to build your eyelash extension kit like a pro!