6 Tips to Get Faster at Quality Lash Extensions
February 18, 2021 by The Lash Professional.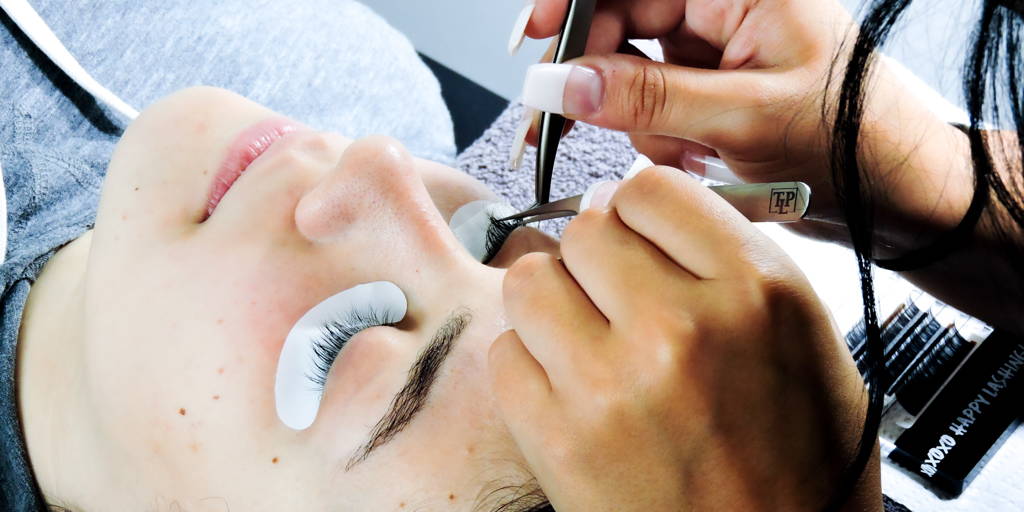 Eyelash extensions are an art, and art can't be rushed. But, the truth is, the quicker you are at quality lash extensions, the more clients you can see, which means the more money in your cute little cash bag. Note that I said quality lash extensions, though. You caught that, right?
As lash artists, we never want to sacrifice quality for time, but if there are ways to get faster at lashing and still provide high-quality lash sets, then we are 100% in. Investing in tools like premade volume lashes is a great start to saving time, but let's not forget that there are more ways than that to become more efficient.
Who doesn't want some extra green in their wallet? Read on to see how to lash faster while keeping your clients happy!
Average Industry-Standard Timing for Lash Artists
Though each lash artist may have their own standard of time for lashing, we'll introduce some of the industry-standard timing for efficient lashing so you gain a sense of approximately how long it should take.
Classic Full Set: 1.5 to 2 Hours
Classic 2-3 Week Fill: 1 to 1.25 Hours
Volume Full Set: 2 to 3 Hours
Volume 2-3 Week Fill: 1.25 to 1.5 Hours
If you are within these time frames, then way to go, lash boss! You are doing great! If you're not within these time frames, it's okay! We have six tips that can help you learn how to lash faster.
Tips to Get Faster at Lash Extensions
1. Take a Lash Extension Class | Save Up to 10 Minutes
If you are wondering how to lash faster, our first tip for you is to take a lash extension class! Taking a lash extension course can save you time in the long run. Learn new tips and methods from lash pros to increase your speed and technique. Wow your clients with bomb lashes every time!
Sign up for one of The Lash Professional's eyelash extension classes today to enhance your lash game and get faster at lashing. Browse online and in-person classes to find one that fits your needs.
2. Set-Up Time | Save Up to 5 Minutes
Preparing for your client before their appointment will save you precious time during the actual lash appointment. Are you prepared when a client walks in the door or do you have to get your lash supplies ready for their service? If you have all the lash products you will need out and ready, this will help reduce the time you spend during the service. Are your lash tweezers disinfected? Do you have your extension tape pre-cut? These little things will save you time!
I also highly recommend evaluating your current lash setup to see if you can make any small adjustments to eliminate wasted time during the service. Are your lash supplies close to you or do you have to get up to grab them? Are your lash tiles full and organized? Do you use a crystal stone and an acrylic lash tile? Having your lash adhesive close to your extensions will prevent wasted time from moving the side of the client's face to the glue ring on your hand.
Also, lash stones keep the adhesive cool longer which means your lash adhesive will last longer throughout the service. You will even save time on shaking that bottle of adhesive and applying a new drop on your stone! Another important note about using a tile and stone is to keep them close to the client's face. The less distance your hand is traveling, the more time you can save.
3. Isolation | Save Up to 10 Minutes
We all know how important isolation is, and girl, we also know how it takes up most of the time! It takes practice to create muscle memory, but eventually, you won't have to think about what you are doing. As they say, practice makes perfect! Practicing will greatly improve your isolation and help you get faster at lashing. But there are a few other things that can help speed up the isolation process, too.
Change Your Angle
Don't be afraid to move around. Changing your angle can make a huge difference when isolating. Sitting directly behind your client only gives you one view of their lashes, but if you move to the side, you can have another view too. Still can't get to a natural lash? Try moving the client's head. Your client wants beautiful eyelash extensions, so I promise they won't mind if you adjust yourself or them to achieve just that.
Lash New Growth
Start your lash extension service by applying short extensions to the short natural lashes. Short natural lashes can get in the way during isolation, but with extensions on them, they are easy to see and move out of the way. I recommend using a thinner and shorter extension to prevent the natural lash from breaking. As you know, lash health is one of our top priorities!
Tape Up Extensions
Eyelash extension tape is every lash artist's must-have lash product! Not only does tape help hold down the bottom lashes, but it's also a great tool that can aid in isolation. You can use tape to manipulate the client's lids to isolate easier or pull back extensions to isolate hard-to-reach natural lashes. If you don't currently use tape to help with isolation, use it! It will save you so much time and will help you produce great-quality lash extensions faster.
4. Excessive Weaving | Save Up to 5 Minutes
The most popular isolation method is weaving. I personally use this isolation method, and so do all my lash artist besties! It's a great and quick way to isolate. But, if you weave your tweezers excessively through the lashes during the lash service, you're wasting time. If you choose to use the weaving technique, hone your skills and make sure you're weaving with a purpose!
5. Excessive Brushing | Save Up to 5 Minutes
It's totally okay to brush your client's extensions throughout the service, but don't spend too much time brushing. At most, I recommend brushing the lashes just a few times during a fill and up to six times during a full set. Brush with a purpose!
Need disposable lash brushes? Buy some here!
6. Talking | Save Up to 10 Minutes
Creating relationships with your clients is so important. Your clients will be loyal if they consider you more than just their lash artist but rather their friend. But it's a Catch-22. Talking can be distracting to the last artist. Have you ever been so deep in a conversation that you stop lashing? That is time wasted! Does your client move their face when they talk? Well, that will slow you down, too. Try to find the balance between chit-chatting and lashing to lash faster.
Now, at the end of the day, practice, practice, practice is the only thing that will improve your timing with quality lash extensions. Having a few pointers to help you along that road never hurts, though! Hopefully, our tips help you to learn to lash faster. Try these six things, and I promise you will see a difference in your speed and your pocket!
Learn advanced techniques to create quality lash extensions! Sign up for our Advanced Volume Class to get faster at lash extensions.