4 Reasons Our Lash Extension Training is the Best
May 3, 2017 by The Lash Professional.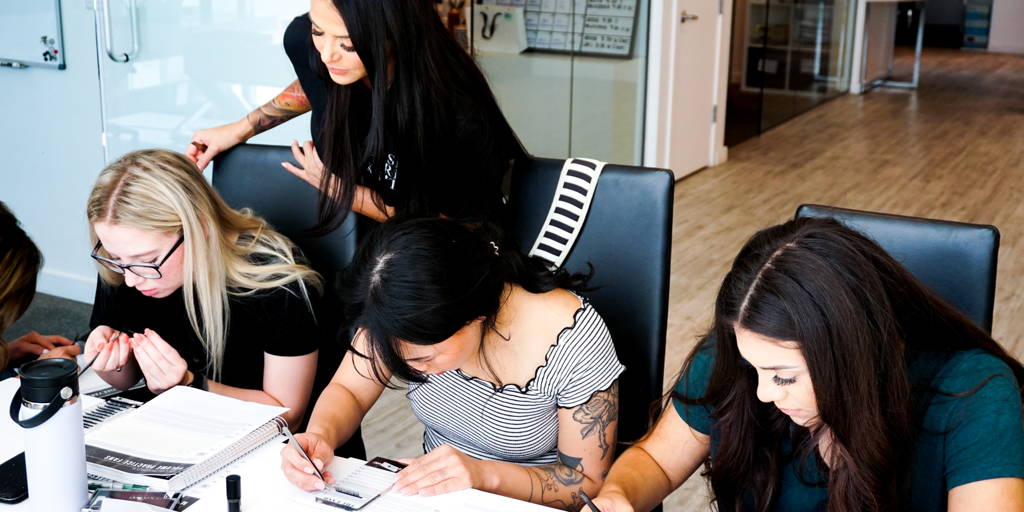 Okay, we totally get it, you have a million of options for your lash education. And, we can honestly say that you have a million FANTASTIC options (including us, of course).
SO, WHY TRAIN WITH THE LASH PROFESSIONAL? LET'S BREAK IT DOWN, DOWN, AND DOWN SOME MORE.
REASON 1: LASH EDUCATION CREATED BY A TEAM OF EXPERIENCED LASH ARTIST'S
The Lash Professional understands that everyone learns differently. That is why our extensive manual wasn't written by one single person. One person couldn't do the job justice. Our extensive eyelash extension manual was written by a group of lash artists who have been in the industry for years upon years upon years. These women combined their expert knowledge and different teaching methods to create a manual that was able to teach every learning style. But, they didn't stop there. The manual was then sent to another group of experienced lash artists for review and feedback. After months and months and some more months, The Lash Professional was able to release the manual. A manual that more than 10 experienced lash artist's touched with their knowledge and personal style. Not only was our manual created this way, so was our class. This group formed what The Lash Professional is proud to call our Eyelash Extension Education.




REASON 2: STUDENT LIMITS PER LASH EDUCATION TRAINING CLASS
Part of our lash extension training is hands-on. Actually, that's incorrect, a huge portion of our lash training is hands-on. With that being said, if our classrooms has more than 5 trainees, we provide 2 experienced lash instructors. We do this, because we want to give you the time you need to succeed. AWESOME. The more instructors per class, the more personal time for you. No brainer! Bring on the education.



REASON 3: LASH EDUCATION WITH AN UPLIFTING, KIND LEARNING ENVIRONMENT
The Lash Professional knows that learning a new skill, with new people, can sometimes be a little overwhelming. We want to make you feel as comfortable as possible, so you can focus on your education. The energy of your learning environment is extremely important for your success. The Lash Professional takes great pride in creating an uplifting, supportive learning environment so you can focus on what's important: your education.



REASON 4: CONTINUOUS SUPPORT ALONG YOUR LASH JOURNEY
So, you took the eyelash extensions training course but while practicing you had some questions come up. Guess what, you're trainers are still available. Your education doesn't stop after your training. It's endless. Yep, that's right. You can email your trainers with questions, anytime. We get it, there is tons of information and somethings questions can come up after the training course. The Lash Professional trainers are here to make sure you have the knowledge you need to become successful in the lash industry. Also, you may retake the class. Yep, that's right! You may take the same class as many times as you wish FOR FREE. Again, we are here to help you become successful in the lash industry and we will do anything in our powers to make that happen lash sister.
We are so excited to be able to offer this hand-on, detailed training to you. We hope we get the opportunity to meet you! And, sometime soon.