Best Eyelash Brush For Extensions [& Avoiding Bad Lash Brushes]
December 30, 2022 by The Lash Professional.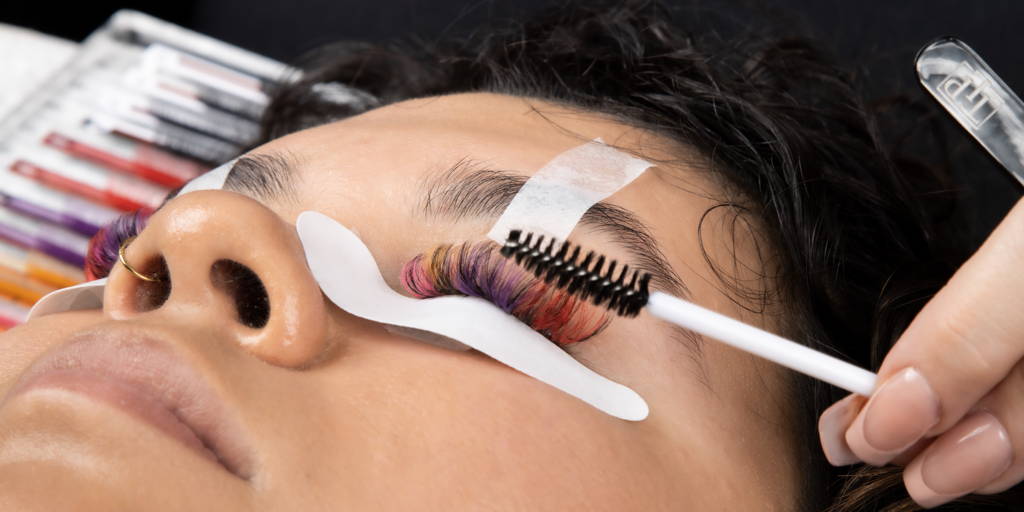 If you're a lash artist, having the right tools is essential for creating beautiful, long-lasting lash extensions. One tool that is often overlooked is the eyelash brush.
A good brush can help you separate and comb through your client's lashes, making it easier to apply extensions and achieve a natural, seamless look. On the other hand, a poorly made brush can lead to tangles, clumps, and uneven application that ruins your hard work.
So, what's the best eyelash brush for extensions? Our top unbiased picks are from The Lash Professional's range of eyelash brushes.
These high-quality brushes and applicators are made with ultra-soft bristles that are gentle on the lashes and won't cause irritation or damage. The compact sizes and ergonomic handles make them easy to use and control, while the brush heads are the perfect shape and size for separating and combing through natural lashes and extensions.
They also come in a variety of shapes and sizes, so you can select the best brush for your client's needs. There are spiral brushes that help to separate lashes without breaking them, wide-tooth combs for clump-free application, angled brushes for detailed work on inner corners, and more.

Micro brushes are also great for applying adhesive to the base of extensions. These brushes have an ultra-thin head and are designed to offer precise application and maximum control. They come in different sizes, so you can find one best suited for your lash style.

How To Choose the Best Eyelash Brush for Extensions
When selecting an eyelash brush, it's best to choose one made with quality materials and designed to work with your needs. Here are some tips to consider as you search for the best eyelash brush for your and your clients' extensions:
Look for high-grade materials.

Make sure the bristles are made from a soft and flexible material that won't snag or pull on lashes.

Choose an ergonomic design.

A good brush should have a handle that fits comfortably in your hand, allowing you to maintain control while applying extensions.

Try different shapes and sizes.

If you work with different lash styles, look for a variety of brushes so you can select the best one for each client.

Check reviews.

Read reviews from other professionals and clients to ensure you're getting a reliable brush that will last.
Overall, finding the best eyelash brush for extensions can be quite a challenge. But, by following these tips and investing in high-quality tools like The Lash Professional's brushes, you'll be sure to get the best results with every lash session.
Tips For Avoiding Poorly-Made Lash Products
Poorly-made lash products can make your job as a lash artist much harder. Substandard materials can damage natural lashes and cause extensions to fall off prematurely. Here are some tips for avoiding poor-quality brushes and products:
Research the brand.

Check for reviews and feedback from other customers before buying.

Get professional-grade products.

Choose professional, salon-grade tools that are designed to last long and work best with lash extensions.

Ask questions.

If you're unsure about a product, ask your supplier or manufacturer for more information before investing.

Consider the price.

Quality lash products may be more expensive, but they are worth the investment.

Look for certifications.

While most manufacturers will claim their products are of high quality, look for certifications and laboratory reports to back up their claims. After all, quality should never be compromised for a good price.
As a professional lash artist or even as a seasoned lash babe, it pays to invest in the best tools available. High-quality eyelash brushes and other products can make a huge difference when it comes to achieving quality results with lash extensions. Finding a reliable brush from a trusted brand can make all the difference when it comes to achieving long-lasting, salon-quality results.

Find The Best Lash Products at The Lash Professional
At The Lash Professional, we provide professional-grade products that are designed to last and deliver optimal results. From eyelash extension supplies to lash kits to lash apparel and accessories, we've got it all. Shop our selection of best-selling lash brushes and find the best one for you today!
​
For more tips on picking the best eyelash brush for extensions, check out our blog. We have plenty of helpful information and advice to ensure you get the best results with every application.
Looking to start a career as a lash professional or enhance your skills? Check out our online training courses today.