How to Clean Eyelash Extensions: Tips to Tell Clients
July 5, 2019 by The Lash Professional.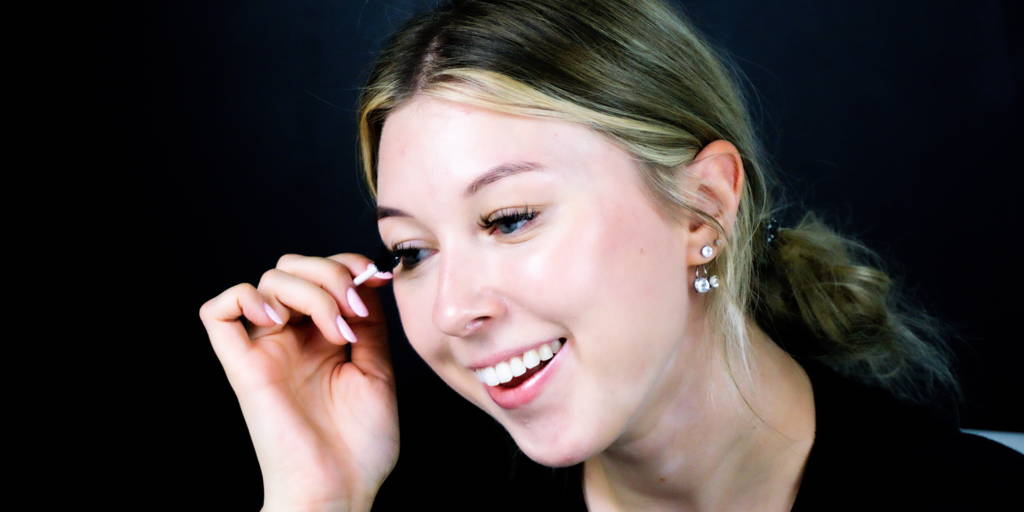 If we've said it once, we've said it a million times — daily maintenance is a must for lash ladies who expect the most out of their eyelash extensions! A daily lash extension routine can increase the longevity of the lashes and enhance the overall appearance to keep them looking fresh.
Keep reading to learn a few of our favorite tips and tricks on how to clean eyelash extensions that you'll need to share with your clients before you send them on their way. In addition, we've thrown in a few sneaky hygiene tips to extend the life of a new set of lashes!
4 Tips to Cleaning Eyelash ExtensionS
Before your client leaves the shop, make sure they are equipped with these tips on how to clean and maintain their eyelash extensions!

Tip #1: Use Mild Cleanser
It goes without saying, but your client should use a mild cleanser daily to remove excess debris and oils. Bonus points for recommending an oil-free foaming eyelash cleanser to help your clients refresh their lashes at home! Overall, with regular maintenance, clients can maximize the life of their lash extensions.
Tip #2: Brush Daily
Brushing eyelash extensions can work wonders for clients who want to extend the life of their lashes! Daily brushing with a reusable or disposable lash brush can remove any excess debris that gets caught in long lashes throughout the day. In addition, this process can fan out the lashes, fixing any clumped and straggling sections. An easy trick to remembering to brush lash extensions is to brush them at the same time your client would brush their hair or teeth.
Tip #3: Avoid Excess Oils
We're all for natural skincare solutions! However, we're going to have to pass on the oil cleansing method and any other makeup removers and cleansers that use oil to clean out the pores. Ultimately, the oils break down the eyelash extension glue used to adhere the extensions to the natural lash. Take the time to warn your clients of hidden oils found in mascara, face washes, and makeup removers.
Tip #4: Scale Back Eye Makeup
One easy tip on how to keep your eyelashes clean between fills is to scale back on eye makeup. This reduces the need to harshly scrub and brush at existing extensions. At the end of the day, the less your client has to needlessly come into contact with their lashes, the less likely they are to accidentally remove lashes. Offer your client helpful alternatives to ease their need for eye makeup, such as a reusable lash wand to fan out the lashes for a fresh-faced look instead of mascara. And, if they absolutely have to use mascara, offer a water-soluble and oil-free lash extension safe mascara.
How to Clean Eyelash Extensions
Cleaning your client's eyelash extensions is crucial in extending the life of their luscious look, so we're giving you step-by-step instructions on how to wash eyelash extensions.
Remove any eye makeup with an oil-free remover. Wipe away from the lid to prevent any damage, and avoid using cotton balls that may get caught in your lashes.

Applying a small amount of gently foaming cleanser, gently cleanse the lashes in a circular motion using an

eyelash extension cleansing brush

.

Carefully rinse away the cleanser with a water dispenser and pat (not rub!) your lashes dry. Before opening your client opens their eyes, brush through the lashes with a

micro brush

to reshape the now-clean lashes.
Once your client's lashes are cleaned and ready to go, you can send them on their way with a list of handy tips for how to maintain their eyelash extensions!
Are you worried about your newbie and forgetful clients? Don't worry. We've created customizable eyelash extension aftercare instructions and templates. They're an easy and helpful guide to remind your clients of their daily lash upkeep steps. Oh, and did we mention that they're free? No excuses — go download your copy.
Learn from the Professionals
These are just a few tips to care for lash extensions. You can only do so much after a client leaves your shop. Set them up for success and equip them with the best knowledge on how to care for and maintain their flawless eyelash extensions. Learn more about caring for extensions from The Lash Professionals!